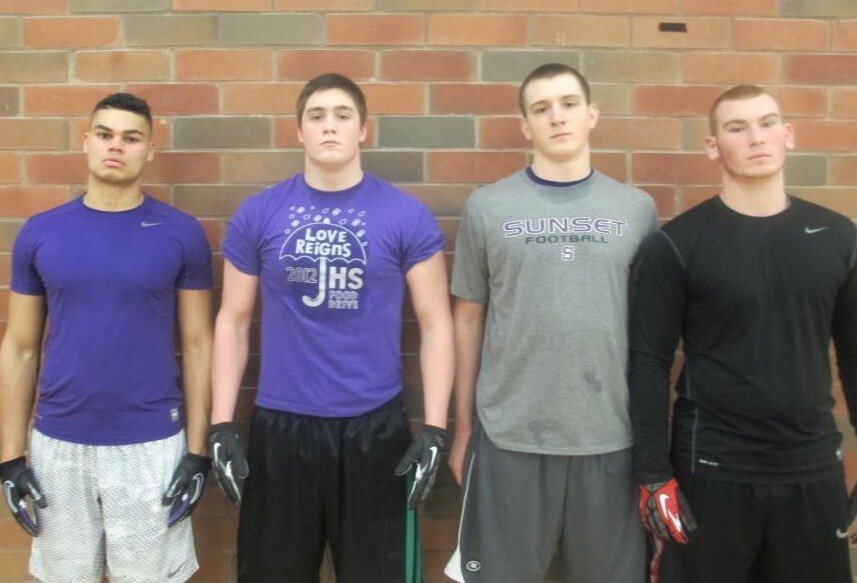 The Elite Events have been outstanding for numerous reasons and one position that sticks out within the northwest, specifically in Oregon, are the 2014 TE's.
The state of Washington has an elite TE in Drew Sample (6-5 235 Jr.) out of Newport, but Oregon has a bunch of kids that project at the D1 level. The group is lead by an athlete many consider one of the five best tight ends in America in Henry Mondeaux (6-5 245 Jr. TE/LB). The Jesuit product has been dominant early in his career, showing off incredible athleticism for a kid his size.
Mondeaux has pulled in offers from Oregon State and Washington, in what will most likely be a very busy off season for the big man. The thing that separates Henry from others is his over the top work ethic. He's the last kid that's ever going to miss a workout and expects nothing to be handed to him. CAL is another school that is projected to come in and offer soon, as most of the Pac 12's will probably pull the trigger in due time.
If I was to select a #1 overall recruit for the State of Oregon in the 2014 class it would be Henry. His ability to move side to side from his linebacker spot speaks to his potential, as you rarely see a kid that size be so agile.
Brody Haehlen out of Clackamas is that 6-4 kid you definitely want on your side. His ability to block only makes him that much more recruitable, as he has just gotten better and better over the early off season.
He was a 2nd team all league TE/DE this past season and projects as a D1/D1aa kid. Haehlen is a three sport talent (basketball, baseball) and much like Mondeaux is an outstanding overall athlete. Football is his focus and Brody has quickly become a kid that we are big backers of. He was the starting TE on our Team Oregon squad that beat Alaska 40-29 in the winter All Star game. His dedication to football couldn't be more apparent, and we are excited for Haehlen moving forward.
Josh Brown (6-6 240 Jr.) is another kid that had a monster Junior season while at Sunset, earning 1st team all league honors at D End and honorable mention all league honors as a Tight End. He' s another athlete that has had a phenomenal off season and been to every Elite Event and done well.
Brown will be a four year varsity kid and has a stock that is rising quickly. He will be traveling this weekend to check out a Big Sky Conference North Dakota team that is rising quickly at the FCS level. This is a smart move for the big athlete who should be considered one of the top two way threats in Oregon. His ability on the defensive side of the ball is equally impressive.
Last but not least is Isaiah Hall (6-4 230 Jr.) out of 3A Horizon Christian. Hall's projection is based on an outstanding frame, and what he brings to the table on and off the field. You will not find a more respectful, hard working kid as his skill level has risen quickly over the last year. Isaiah is still raw as he has only played football for a few seasons, but has an upside that won't quit.
You can expect Hall to be the go to guy at Horizon this next season, with the departure of all everything athlete Wyatt Houston and his talented sidekick Zack Selland.
We are excited for all of these athletes moving forward as they are representing Oregon the way no other group of tight ends has done previously. I truly think Mondeaux will have a lengthy NFL career with all of the other kids projectiing at the D1 level.