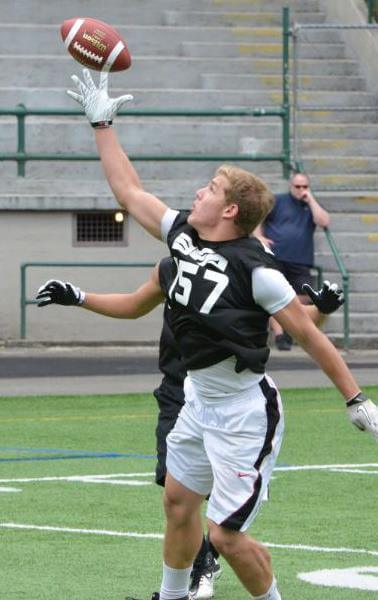 Sundays Portland Elite Event brought out the best of the best, and one of Washington's top linebackers just confirmed why we have him ranked where we do. Gianni Carbone (6-1 215 Jr. WLB) of Skyview showed why he is considered one of the region's top backers this past weekend, showing off a combination of outstanding quicks and legit strength.
Carbone was a kid that burst on to the scene last year after transferring from Fork Union Military Academy in Fork Union, Virginia. This past season he accumulated 46 tackles, 2 sacks, and 2 Int's, one of which was a pick six. He was part of a Skyview team that was fresh off a 2011 state title appearance and Gianni looked to carry that trend into 2012.
He says, "We lose some talented kids, but we will play with everything that we have and I feel that we could have a special season". Carbone continued, "I want to create some memories and stick together as a team, I think if we do that the pieces will fall in place".
Carbone is your ultimate team guy and someone that plays with his hair of fire. Out of the 70+ kids in attendance at our elite event Gianni may have been the Defensive MVP . He shedded blocks and tracked down ball carriers quicker then any other individual in the gym. Head LB Coach Dionte Brooks out of Compton and Portland State said, "Ya, thats a D1 kid". It was impressive day to say the least.
The Storm return two very experienced lineman in Garrett Lawler and Matt Mateo and some talented skill kids with Jacob Dennis, Gage Stumpt, and Josh Wilkerson. Carbone praised them all and said they would be the difference makers.
Gianni says, "I've been training with Brad Packer and Cory Gilday who have helped a lot, and I really appreciate all of the personal support from our Head Coach Steve Kizer and Coach Williams".
Carbone comes in ranked our #3 LB in the state of Washington as he is your ultimate weak side linebacker. "I really want to earn all league and all state honors next season, and I'm hoping to shed some time off my 40 in the process". Gianni has phenomenal extincts and is as quick as any backer we have seen in the last few years coming off the end.
He flew under the radar a little bit last season, but has recently been invited to be a part of our NEI-South (Team Oregon) Las Vegas 7 on 7 Team, that will be playing in the regional tourney in two weekends. He's an outstanding kid on and off the field, and we look forward to bringing you updates on Carbone moving forward.