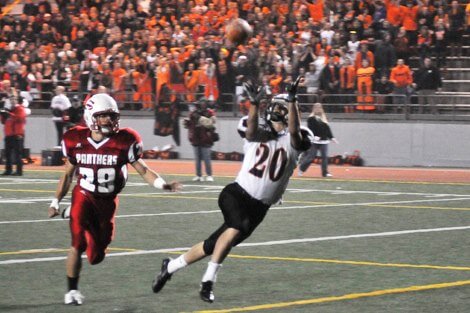 This past season I spent every Friday night producing broadcasts for PlayON! Sports. More often than not I knew both teams and almost every player on each side, but the week 6 contest between Monroe and Snohomish was a bit of a mystery to me. I knew a few names on each side, but none of them really stood out. Monroe junior Gabe Moore (6-0 170) on the other hand had a game winning TD reception, game clinching INT and great all around performance.
Moore was our player of the game and I began following him on a weekly basis. I didn't have to wait long to be wowed again as the following week he went absolutely nuts. "One of my highlights last season was breaking my school record for rushing yards in a game (previously held by his brother Jordan Moore) with 323 yards against Arlington in an overtime win," Moore said.
The 2012 season was one of great accomplishment for both Moore and Monroe. The Bearcats were picked by the coaches to finish 4th, but ended up winning the Wesco 4A North with a 3-1 league record. Moore's year was good enough to be awarded 2nd team All-Wesco as both a RB and LB, and also 1st team for is work in a kick returner.
Gabe is the definition of "Ironman" on the football field. "I am the punter, running back, receiver, linebacker, and kick returner". Moore continues, "Sophomore year I played running back, receiver, linebacker, corner, and safety. My coaches describe me as a versatile player with the ability to do whatever is asked of me."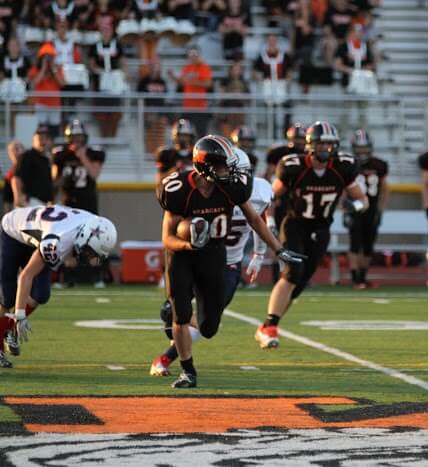 Until this year, Moore was a three sport athlete also competing in basketball and track. He didn't play basketball this season so he could concentrate more on his studies and other aspects of his life. In the spring, he still plans to compete in the 300m hurdles and pole vault for the Bearcat Track and Field team.
As successful as Moore is athletically, he is equally talented in the classroom. "I uphold a 3.7 GPA while being enrolled in Honors and AP courses. I achieved a 4.0 GPA this previous semester and I plan to earn another 4.0 next semester," Moore said. "I recently took the SAT and I scored an 1890. I believe in constant improvement and will retake it to receive a higher score."
Moore is also a member of DECA organization which is business marketing competition with thousands of students competing nationally every year. Because of his involvement, Moore states, "this club has helped influence my decision to pursue a degree in business in college".
With all of this going on, Moore still finds time to volunteer. "Helping others has always been a moral value of mine. I always enjoy the look in the eyes of others when they have the 'ahha' moment," Moore said. "I have volunteered in the Puget Sound PurpleStride Walk for Pancreatic Cancer the past two years".
Moore continues, "I focused on providing audio visual capabilities for the event and participated in the actual walk as well. Doing this provided me with a feeling of accomplishment and it was nice to know that I can help others doing what I love."
A few weeks ago Moore participated in a NEI/BFA Elite Event and showed his abilities are more than adequate against some of the best competition this state has to offer. He has already confirmed his participation in the weekend's event and I look forward to seeing Gabe improve his game. Moore is a kid you root for and when the time comes for the 2013 PurpleStride Walk, I hope to be able to participate.
I would like to leave you with my favorite quote from Moore, "I personally believe that if one is given certain talents, they should use them for the benefit of others".