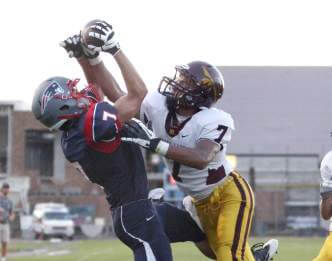 When it comes to wideouts, the state of Washington has produced plenty of them that have been stars at the next level. Reggie Williams, Jermaine Kearse, Nate Burleson and Jared Karstetter are just a few of them. One of the top senior wideouts in the state of Washington this fall is a player who hails from Yakima — Eisenhower WR Ridge Harmon — and even though he's losing his quarterback, he said he expects things to be just as smooth as a senior in 2013.
"I had a great connection with Kolney Cassel (who signed with SMU earlier this month), but I think we'll be just fine with Chris Stewart," Harmon told Northwest Elite Index. "He's only going to be a sophomore, so he's got a bright future and we've been out throwing a lot this winter so far and I feel like I already have a great chemistry with him and it's only going to get better.
"He's got a great arm. I mean, he's got a cannon out there, so I'm really excited to see what we can do."
As a junior this past season, Harmon put up solid numbers, hauling in 47 receptions for nearly 1,000 yards and eight scores on a team that went 7-3 on the season.
"I'd say I'm a possession receiver," Harmon said. "If you get the ball near me, I'm going to go and get it. I have a good knack for finding the open spots and I take pride in the fact that I always get first downs.
"I'd say I model my game after a guy like Wes Welker. He's always working, always moving, always getting open and he's always there for his quarterback and that's something I feel like I do really well."
At 6'0″ and weighing in at 172 pounds, Harmon isn't your typical possession guy. He's got the size to get off the jam and he's got the quickness to get open and, like he said, when the ball is in the air, it's rare when he doesn't come down with it.
Harmon has yet to see much in the way of recruiting attention, but expect that to pick up this spring and summer as he hits the camp circuit.
"I'm planning on hitting as many of the Barton camps as possible and I want to get out to the Nike camps and maybe a couple of team camps too like Washington, Washington State, Oregon and Oregon State," Harmon said. "I'll be busy, but I definitely want to get my name out there and show coaches what I can do against some of the top competition."
In addition to being a stud on the football field, Harmon also is a fixture on the hardwood, averaging 14 points per game as a point guard on the Cadets' basketball team and he's a three-handicap on the golf team as well.
We will have more on Harmon in the coming weeks and months and we will update news on him as it happens.