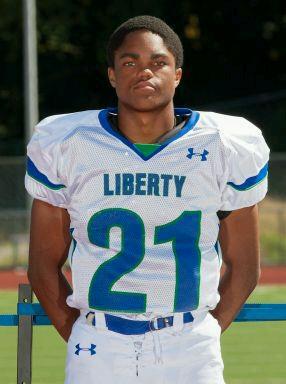 On a weekly basis someone new steps in to the Barton Football Academy's Washington Elite Event and blows me away. Last week that was Russell Boston (5-6 160) out of Liberty High School, just east of Renton.
From the second coach Greg Prator put Boston to work he impressed against some of the states top competition. His footwork is some of the best I have seen and his ability to run routes and catch passes out of the backfield is beyond what I was expecting.
I really did not know much about Boston until recently and have become more impressed the more I get to know him. Patriots head coach Steve Valach confirmed everything I have seen, "Russell is a fantastic young man who holds himself to incredibly high standards both on the field and off the field". He continued, "He's a team first guy and his teammates voted him captain for the 2013 team".
Last season he finished with 86 carries for 442 yards and 2 TDs for a Patriots squad that really struggled to find its identity. For his efforts, Boston was named Honorable Mention while playing in possibly the toughest 3A league in the state, the KingCo Conference.
Boston also competed for the Liberty Track and Field team in the 100m, 200m, 400m, Long Jump and the 4x100m relay team. Boston's physical numbers are very good. He runs a reported 4.6 40 yard dash, benches 225 and squats 365. All good numbers when you consider his size and the fact that he is only a sophomore.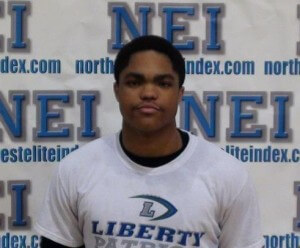 As impressive as Boston is athletically, his work in the classroom is no slouch. Boston currently sports a 3.8 Grade Point Average while taking multiple honors courses. He is a member of the National Honor Society and was awarded as a Scholar-Athlete for his work on the field and in academics.
"Not only have I coached him in football, I've also had him in class – excellence is a life style for Russell," said coach Valach. "What you have witnessed in his training and in his paperwork is not a mirage… he's the real deal as a person!"
The Patriots return some nice pieces next season including WR/DB Sam Dodt (6-1 170) and lineman Nate Jarvis (6-0 250). Both were honorable mention last season and will be look upon to lead Liberty next season. With the loss of ATH Tynan Gilmore (2nd team all league), you can expect Boston to get a bulk of the carries.
This week we have a big NEI/BFA Elite Event planned and I hope to see Russell out there competing again. I am confident Boston will succeed when put up against the tough competition that football and life will bring over the next few years.