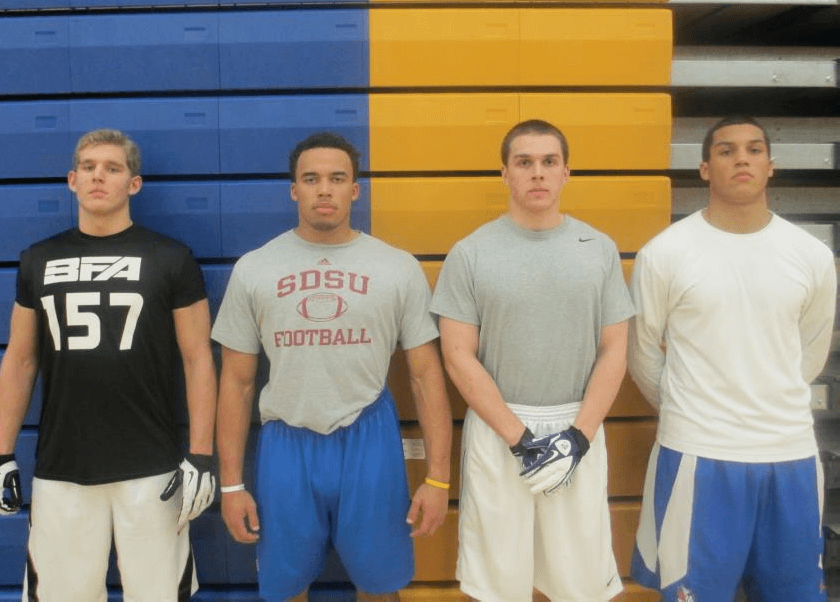 Our Elite Events have brought out the best players at their position within the NW, and last weekends Oregon Event didn't disappoint. Top northwest linebacker Joey Alfieri (6-3 225 Jr. LB) out of Jesuit had a prior obligation, but every other top talent was in attendance. Check out the other top backers in the region as the 2014 group has legit talent across the board. All four of these kids project at some level of D1 football.
Sam Bodine 6-3 220 Jr. LB/S Canby
We aren't sure what position Sam will play in college, but he is the fastest rising recruit in the entire Pacific Northwest and someone that we feel will be a potential double digit offer athlete.
Bodine's ability to run and maintain incredible body control is what separates him from his peers. He is is a talented basketball kid, but football is his first love and schools will be all over him shortly. If we had to choose an MVP from the State of Oregon, covering the months of January and February at Elite, it would most likely be him or Henry Mondeaux.
He was a 1st team all league kid last year and will be one of the favorites for TRL Defensive Player of the Year honors next season. Sam is an outstanding student and just a phenomenal kid, and someone that we will be backing for his entire career.
AJ Hotchkins 6-0 230 Jr. LB/DE/FB Tigard
Hotchkins was a 1st team all league athlete on both sides of the ball this past season at D end and fullback, but projects as backer at the next level. He is considered the most viscous hitter in the entire region as his highlight video is a PG- 13 type thing.
AJ 's work ethic is what separates him from other athletes. He is a workout junkie and someone that has already received significant D1 interest. Iowa recently came by to see the Tigard standout when they were visiting Johnny Ragin of Wilsonville.
We are huge supporters of Hotchkins as he is a D1 projected kid, and someone that will have his choice of schools before all is said and done.
Gianni Carbone 6-1 220 Jr. LB Skyview (WA)
Other then having the coolest name on the block, Gianni brings a lot to the table. He blew up the competition at our elite event this past weekend coming off the end and shedding defenders like it was nothing. He made the transfer from Fork Union Military Academy in Fork Union, Virginia after his sophomore year and made his presence known right away.
Carbone is extremely physical, and is ranked our #3 LB in the state of WA for the 2014 class. His ability to maneuver and create is very impressive as he is a legit Defensive Player of the Year Candidate in the GSHL in 2013.
Gianni killed it last Sunday at Elite and we expect nothing less from him for the remainder of his HS career.
Nick Underwood 6-2 215 Jr. LB Lake Oswego
Underwood will be a three year all league athlete at one of the top football schools on the west coast, and someone that we think very highly of on and off the field. Nick won a state title in 2011 and was a 1st team all league backer in 2012. He will compete with Sam Bodine for Defensive POY honors in the TRL next season.
Nick is extremely quick for a linebacker, running a 4.45 hand time 40 at our Salem combine last off season. He projects as the featured tailback in the Laker system and someone that is about as classy of a kid as you will ever find.
Underwood like the other three athletes will be a part of our 7 on 7 Las Vegas Tournament team, that will travel and represent the State of Oregon in the regional tournament next weekend.