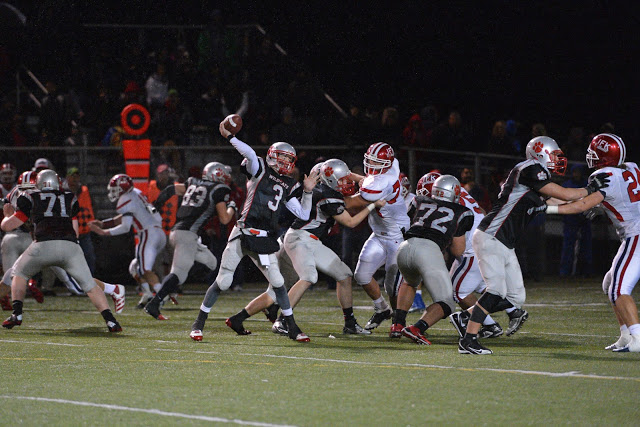 Since leading his team to an 11-2 record by throwing for over 2,300 yards with 33 touchdowns and six interceptions, things have been pretty intense on the recruiting front for Mount Si (Snoqualmie, Wa.) QB Nick Mitchell. He took a trip east of the mountains to visit both Eastern Washington and Washington State and came away impressed with what he saw.
"Washington State's Junior Day was the Saturday before I made it out there. I had 7-on-7s the day they had their Junior Day, so I went out on Monday and visited there and Eastern Washington," Mitchell told Northwest Elite Index.
"The visit to Washington State was really impressive. I came away with the impression from the coaches that they are changing the attitude there and the mentality," Mitchell said. "They can't just be happy they are Pac-12 football players or that they are getting college paid for. They don't want their players being complacent."
"I also got to see the new facilities and their press box which they got last year and it's really nice up there. Then they showed us a presentation of the facilities that are coming soon there". Mitchell continues, "My dad and I also got to spend a lot of time with coach (Mike) Leach. It was really a good meeting."
Speaking about Eastern Washington Mitchell stated, "Coach (Beau) Baldwin and coach (Zak) Hill were great. I spent a lot of time talking to them and I really appreciated that they aren't guys who will tell you what you want to hear". Mitchell added, "Their recruiting is a little different just because they are a (FCS) program and their recruiting really starts a little bit later in the process".
With all of that, he still walked away without an offer from either program, but said he's willing to be patient with the process.
"I have a lot of schools talking to me right now and it's still really early, so I'm not in a huge hurry or anything. I've been talking to Oregon State and Portland State". Mitchell noted. "I'm also hearing a lot from Wyoming and Colorado State. Washington has been in contact with me recently, but it's still pretty new with them."
Mitchell said he plans to take in several camps this spring and summer and will sit down with his father to make some decisions on which schools he wants to hit.
"If I already have an offer from a school, I probably won't go to their camp," Mitchell said. "I might go throw for some schools though, so their coaches can see me throw and I'll do that at their camps this summer. I want to take my time and make sure I've got some options before I sit down and make a decision.
"Having two brothers (Josh who is at Oregon State and Taylor who is at Humbolt State) really helps me as I go through the process. I've seen what they've done and how it went for them and that really helps me I think."
On most weekends, Mitchell throws with former NFL QB Hugh Millen, who volunteers with the Mount Si program and also attends quite a few Barton camps as well.
As things continue to move along in the process for Mitchell, we at NEI will continue to report on news as it breaks.