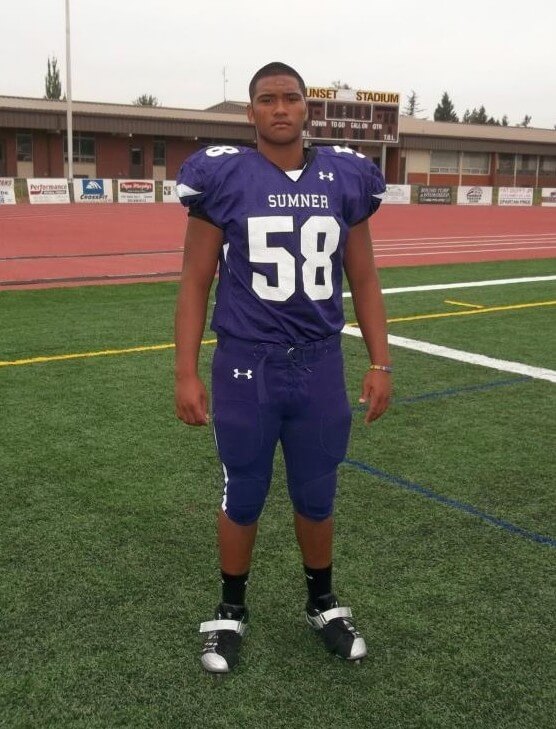 I spent much of last spring/summer attending various team practices, 7-on-7 events and scrimmages. Along the way I was impressed by many players I did not know. The player that made the biggest impression on me was 2014 OL/LB Austin Striplin (6-3 245) of Sumner.
The first time I saw Striplin was June 17th at the Stadium Bowl in Tacoma. Sumner, Enumclaw and Stadium all got together for a scrimmage had invited me out to take a look. Striplin was the first player I noticed when I sat down. He stood out the entire day, but it wasn't until a few days later I found out who I was watching.
A few weeks later I met Austin for the first time at a 7 on 7 event in Enumclaw and was again impressed. He made play after play on the field and was one of the nicest kids I have ever met off it.
Through most of the season I received emails from Spartan head coach Keith Ross with Striplin's stats. 10 tackles here… 12 tackles there. In the end he would finish with a league high 109 tackles, including 10 for a loss from his middle linebacker position.
As a matter of fact, Striplin is a bit of a "Tackling Machine". His sophomore season he finished with 91 tackles after making the move to LB from the DL as a freshman.
This year though Striplin was an absolute force at middle backer as the Spartans would go on to win the SPSL 2A title. They won a few games in the playoffs before bowing out to eventual champion Lynden in the quarterfinal.
In the end, Striplin would walk away with a ton of accolades for his work. He was voted as a 1st team All-SPSL performer as both a LB and OL. He was also voted the Offensive Lineman of The Year and the Defensive Player of The Year.
Recognition didn't end on the league level for Striplin. He was also named to the All-Area Team as a LB by the Tacoma News Tribune. To top it off, Striplin was named 2nd Team All-State on both sides of the ball by the Associated Press.
Austin's instincts are second to none. Watching his videos you will see a kid that is always one step ahead defensively. Right now we have him listed as our #10 ranked LB for the state of Washington in the 2014 class. Striplin is a kid that could really move up these rankings if we had the opportunity to see him more.
Sumner loses some key pieces off last years squad but do return a few quality players. Striplin will be a leader for the Spartans and the lynch pin of what should be a good defense. I think very highly of the work coach Ross and his staff do and fully expect the Spartans to be challenging for another league title next season.