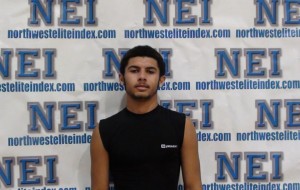 A kid that has helped his cause a great deal as of late, is talented sophomore DB Dashay Ware (5-10 165 DB) out of Beamer. Ware broke the all time school record for interceptions this past season with (7), also leading the conference from a very young age.
Ware's ability compliments talented junior WR Adrian Shocks, who is another kid we have become big fans of. Both Shocks and Ware will return for a Beamer team that is not your traditional football power. Last season the Titans went (3-7) and the year before (2-8), but things are looking up for the school out of Federal Way.
Ware says, " We didn't have the best season last year, but I can assure you we are in for a better year". He continued, "We have a great coach and we have a lot of our players returning and getting bigger, faster, and stronger".
Dashay showed up at our elite events a few months back and impressed right away. He's a super talented kid on and off the field sporting a 3.45 GPA, while preparing to take part in the schools "running start" program, allowing him to earn his college AA degree over his junior and senior year of high school.
"Adrian, Marcus Schimmelfennig, Taylor Davis , and Brody Martinez are all kids who will help us battle in the tough SPSL League that we play in", Ware says. " My dream is to attend a Pac 12 school and play football".
Dashay is a well spoken kid that also finds time to work in between sports. He is ranked as one of the top 5 sophomore DB's in Washington and has a huge upside. Ware earned himself a trip to Vegas as part of NEI-North, proving that he has was one of the better athletes in the region.
Expect Ware to be an offensive threat as well next season along side Shocks, who will require constant double teams. These two playing off one another give the Titans multiple options with a solid returning cast coming back. We can't say enough good things about the Federal Way and Beamer athletes, as the kids and parents have been phenomenal.
Stay tuned for updates on Ware and his Todd Beamer teammates. Its definitely a school on the rise.