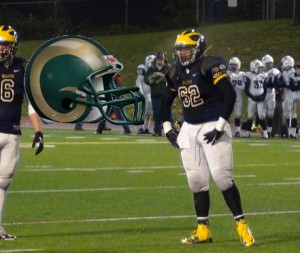 After a solid junior season that saw him start for 3A State Champions Bellevue, lineman Marcus Griffin has had a busy month of February, hitting several Barton camps as well as a couple of Junior Days. He recently spoke to Northwest Elite Index about his latest offer and what his plans are for the offseason…
"I just got an offer from Colorado State which was pretty cool," Griffin told NEI. "I have been talking to them for a while and they decided they had seen enough of me and offered me over the phone."
The offer from the Rams is Griffin's second, joining Washington State which offered him earlier this month.
"Yeah, they offered me which was really great," Griffin said. "I had just started talking to them and they offered me after watching my film."
Griffin did take in Washington's Junior Day on February 9th and said he had a good time, but he hasn't spoken with the Husky staff since then.
"I had a really great time there," Griffin said. "The staff there talked to us about a lot of things that are going on there — the stadium being redone, how they are building the programs — and I really had a great time, but I haven't really talked to them much other than that".
"They like me on the offensive line the most, but I also went in with coach (Tosh) Lupoi when he was with the d-linemen, so I sorta got a feel for both spots there."
In addition to those three schools, Griffin said he's also been hearing a lot from Cal, Arizona State, Boise State, Wisconsin, Michigan, Notre Dame, Oregon, Oregon State and Utah among others.
"Cal seems like they could be my next offer. They wanted my transcripts and I think it's probably just a matter of time with them," Griffin said. "That would be my third offer and Boise State and Arizona State have both said they will probably offer me soon, so I have some good options already and it's still pretty early."
As far as his play on the field, Griffin told NEI he is open to playing on either side of the field, but if he has his choice, he prefers one side over the other.
"I definitely prefer defense over offense," the 6'3″, 290-pounder said matter-of-factly. "In our system you just attack all the time, and I like that. On offense since I play center, there is just so much to do and remember, but on defense you just attack and I like that a lot."
Griffin said he plans to continue being a mainstay at the Barton camps that are held every weekend and he also plans to attend at least one Nike SPARQ camp. He also noted that he would like to take several unofficial visits to schools that are recruiting him and will likely attend their camps as well, although he has yet to sit down and plan things out.