Video Highlights:
Brett Hildebrand, Garrett Hittner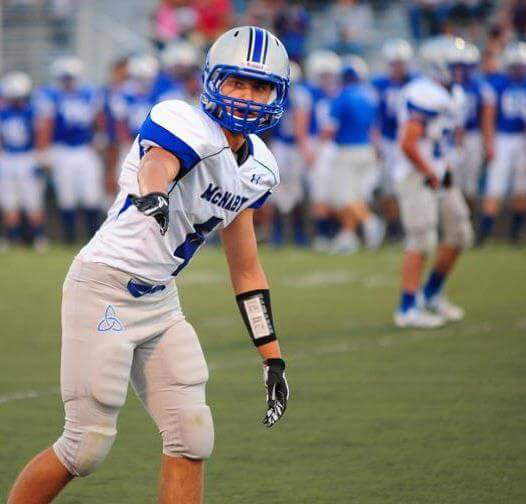 Two kids that have gone somewhat under the radar, due to playing out in the Central Valley on below .500 teams, have been Brett Hildebrand (5-11 195 Jr. RB) and Garrett Hittner (6-2 185 Jr.) of McNary. Both athletes have excelled at our elite events over the off season against the top competition in the northwest.
New head coach Isaac Parker is a players coach, and was a big hire for the Celtics who were not long ago a state power. Both of these kids exemplify all that is good about high school football, as they will be viable CVC Player of the Year candidates coming into next season. The Celtics have gone (4-7) and (3-8) in the last two seasons, but are expecting a significant improvement in 2013.
Hildebrand had a monster junior year running the ball, averaging almost 6 yards per carry and carrying the rock 243 times for 1, 448 yards and 14 total Tds. Brett was a kid that they could rely on each and every week for consistency. Every team needs a back that can bring stability to a run game and he was that guy. He says, "We want to get our offense rolling next season, because last year we didn't put up many points and it tired out our good defense". Brett continued, "Personally I have lofty goals as I want to finish ranked as one of the top 5 backs in the state, and rush for over 2000 yards being the CVC Offensive Player of the Year"
Hittner did much of the same and was equally valuable on both sides of the ball. Garrett runs some of the best routes in the state of Oregon, and has made a name for himself on a state wide level at our elite events. He will be a three year starter on both sides of the ball after catching 28 passes for 556 yards and 6 Tds in 2012. Garrett's upside is through the roof, as he is an athlete with size that just earned himself an invite to Las Vegas with the other top athletes from around the region.
Garrett says, " We want to make a playoff run next season and make it passed the first round unlike last year". Hittner added, " I would like to be a 1st team all league WR and at least a 2nd team DB, but most importantly just help my team win"
Both of these kids are high character athletes that coach Parker can count on, on and off the field. They will team with one of the state's top junior LB's in Perry Groves (6-4 220) , and some very talented skill kids that should help the Celtics compete for the Central Valley Conference title in 2013.
Devon Dunagan (6-3 190 So. WR/S) and Daniel Brattain (6-2 170 Jr. WR/DB) return as two of the better underclassmen in Oregon at the skill positions. Both kids have size making their upside that much more appealing. Andrew Lawrence (5-10 180 Jr. DB) came up big last year making 81 tackles with 4 INT's, and Connor Goff (6-2 200 So. WR) is another kid that we like as he is only a sophomore.
Hayden Gosling will return at quarterback, after hitting on 63% of his passes last season throwing 11 Tds/10 Ints for a little over 1800 yards. Gosling did a relatively good job, and will bring back some much needed experience to a talented returning roster. If McNary does what they need to do this off season they will be legit CVC conteneders. Coach Parker does a phenomenal job of getting the most out of his athletes, and next years Celtics group could very well be back to old form.