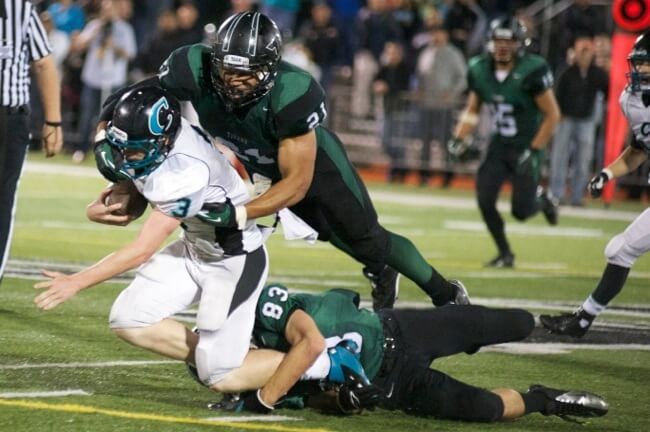 In what has been a crazy few months since the season ended, Oregon top Junior athlete AJ Hotchkins (6-0 230 Jr. FB/LB) of Tigard received his first D1 offer from Idaho this evening. Hotchkins is widely regarded as the most vicious hitter in the northwest, tracking ball carriers down like they stole something.
He earned 1st team all league honors on both sides of the ball this past season as a D End/ Fullback, and will be the leading candidate for defensive player of the year honors in the Pacific Conference next season.
AJ is very deserving and will have plenty of offers before all is said and done. His lights out mentality puts him on a completely different level, as his highlight film speaks to his potential. Referencing the Vandals offer Hotchkins says, " Idaho hit me up this morning and said the staff really liked my film…I had no idea an offer was coming, but when I called them tonight they asked me how my day was an offered me a full ride". He continued, "they just asked that I remember that they believed in me first, and that they were the first to pull the trigger".
Hotchkins was given the Defensive MVP award of our team Oregon squad, that defeated team Alaska during the winter All star game. He was also recently selected to be a part of our NEI-South group traveling to Vegas this weekend representing the northwest's best.
Tigard will come in ranked one of the top 5 teams in the state next season, widely due to Hotchkins presence on both sides of the ball. The Tigers will look for AJ to block for Pacific Conference Offensive Player of the Year favorite Manu Rasmussen in what will be a lethal duo.
Congratulations to Hotchkins as he is a phenomenal talent and an even better kid.