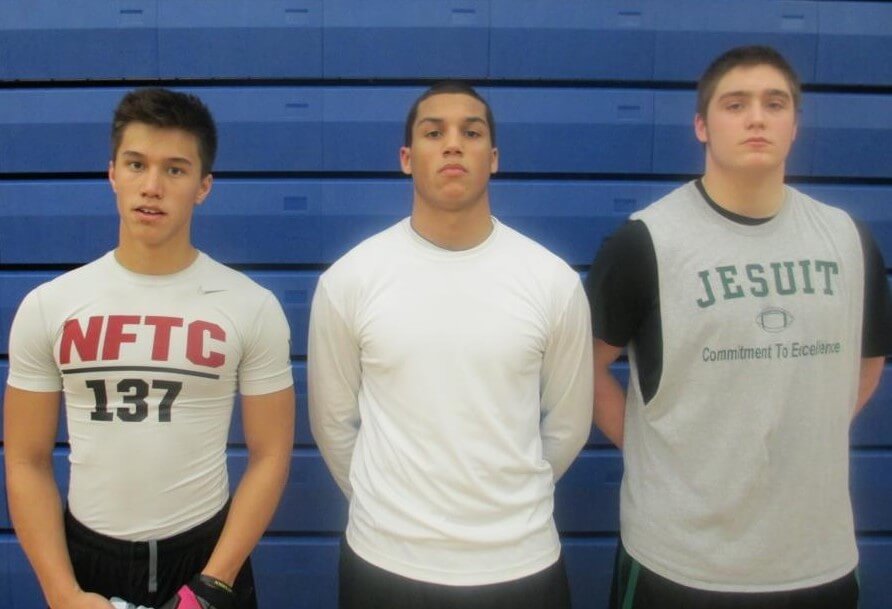 Its always fun to put stuff like this together in anticipation of the upcoming season. There will be changes before the year begins, but if the season were to start today this what I would go with.
I have hit on approximately 85% of my picks the last two seasons. Have a look at the picks and predictions for the state of Oregon's Class 6A and 5A teams
Jordan Johnson- NEI/Barton Football
6A TOP 10
1. Jesuit- They bring back a ridiculous amount of talent at the skill positions (Alfieri, Mondeaux, Werner, Martinek, Morrison etc..) but lose 4 D1 kids up front; It will be in interesting
2. Southridge- Outsanding program that will feature two of the state's top RB's (Martinez, Pruit) and the state's top WR (Morgan) with the entire line returning. One of the state's best D's.
3. Central Catholic- Player for player probably the most talented team in the state, but we have been able to say that about CC many times before.. #1's all over (Wilder-QB, Humphreys-DE, A.Washington-CB, C.Scarlett- RB, Ryan Nall- RB/LB)
4. Tigard- Manu Rasmussen will go for 30+ Tds and be the Conf POY..AJ Hotchkins is the real deal, but we will see how the young line is able to do.. They will also be without the the trio of (Floyd,Greene, Wick).
5. Sheldon- One of the most well coached teams in the entire country; The state champions still have a lot of talent back (K.Strahm, Talty, Davies, Herbert, McGovern, Rotherham, Spears) and should do well.
6. Lake Oswego- They lose a ton of talent, but LO ALWAYS reloads. I for see the TRL being much more competitive as Underwood, Horak, and Calhoon will lead the Lakers.
7. Canby- Could be the sleeper of the year if they can put things toghether.. Talent is everywhere with a solid line (Kraus X2, Fobert, Kraxberger).. Sam Bodine will have 10+ offers and be a state POY candidate
8. Sunset- They won't have a ton of kids up front, but Bieber 6-4 and and Brown 6-6 are two of the state's better targets for QB's Pflug and Welsh…. Coach Riley has a dominant system, and coaching staff
9. Clackamas- Could be the surprise team of the year with a bunch of talented kids returning.. Bushman has the athletes and they will have an opportunity to challenge LO and Canby.
10.South Medford- Singler runs a top notch program and they will once again be a group that could battle Sheldon for the SWC title (Bowley, Lallo, Contreras, Eli, Gomez)
Tualatin- Always one of the better programs in the state and this year will be no different… Not super deep, but will still be good (Schoonmaker, Shockloss, Moore, Saina, Hines, Shroyer)
METRO
1. Jesuit
2. Southridge
3. Sunset
4. Aloha
5. Westview
6. Beaverton
THREE RIVERS
1. Lake Oswego
2. Canby
3. Clackamas
4. Lakeridge
5. West Linn
6. Oregon City
PACIFIC
1. Tigard
2. Tualatin
3. McMinnville
4. Glencoe
5. Forest Grove
6. Newberg
7. Century
8. Hillsboro
CENTRAL VALLEY
1. West Salem
2. McNary
3. South Salem
4. Sprague
5. Mckay
6. North Salem
SWC
1. Sheldon
2. South Medford
3. Thurston
4. North Medford
5. Grants Pass
6. Roseburg
7. Crater
8. South Eugene
MT. HOOD
1. Central Catholic
2. Barlow
3. David Douglas
4. Centennial
5. Gresham
6. Reynolds
5A TOP 10
1. Sherwood – Its basically a factory and will continue to be the favorite at the 5a level… Leading will be Keegan Lawrence, M.Scahefer, S.Skurdahl) and as always a host of other kids. They will be 6a soon
2. Marist – They lose top talents in K.Smith, Baird, and Harper but return a bunch of starters that should fill in nicely for the Frank Geske led group.
3. (tie) Silverton – The Foxes come back loaded as junior to be Cole Chandler will be one of the better QB's in the state; They return a very talented line group and Jonas Dahl has looked phenomenal; Head coach John Mannion does great work
3. (tie) West Albany – LaCoste left, LaCoste Right.. He could potentially go for 3000 yards next year… The Bulldogs return close to 10 all league kids, and will be one of the state's best and challenge for the MWC Title
5. Springfield – Coach Dave Heuberger has come in and completely resurrected the program with a phenomenal coaching staff; They will return a solid line (Haas, Hastings etc..) , the state leader in INT's- Taylor Travess and top freshman QB Trever Watson
6. Roosevelt – Coach Swain could be the President of North Portland if there was one.. Junior QB Kimane Domena already has offers from BYU and Colorado St and they have talent everywhere with a line.
7. Hermiston – Coach Mark Hodges brings back almost everybody and will be one of the biggest surprises state wide at the 5a level. Its a growing community that has really rallied around its football.
8. Wilsonville – The Cats lose the top trio in school history (Shipley, Ragin, Walsh) but kids like Cooper Whitaker and Parker Nielsen will have the team ready.. Coach Adam Guenther is someone everyone wants to play for.
9. Mt View – They will be young, but Coach Brian Crum has his guys dialed.. Austin Phillips is one of the state's more underrated lineman and the Cougars will be good.
10. Crescent Valley – Tanner Sanders is the real deal , but he will need help on the line to replace guys like Powell and Bodon.. Expect Chase McFadden, Possezzi, Bucher, Chen and Heck to step up.
NWOC
1. Sherwood
2. Wilsonville
3. Putnam
4. Milwaukie
5. St Helens
6. Sandy
7. Liberty
8. Parkrose
MID WILLAMETTE
1. Silverton
2. West Albany
3. Crescent Valley
4. Lebanon
5. Corvallis
6. Dallas
7. South Albany
8. Woodburn
PIL
1. Roosevelt
2. Wilson
3. Franklin
4. Cleveland
5. Madison
6. Jefferson
7. Benson
COLUMBIA RIVER
1. Hermiston
2. Hood River
3. Pendleton
4. The Dalles
MIDWESTERN
1. Marist
2. Springfield
3. Ashland
4. Eagle Point
4. Churchill
6. Willamette
7. North Eugene
8. Marshfield
INTERMOUNTAIN
1. Mt View
2. Bend
3. Redmond
4. Summit