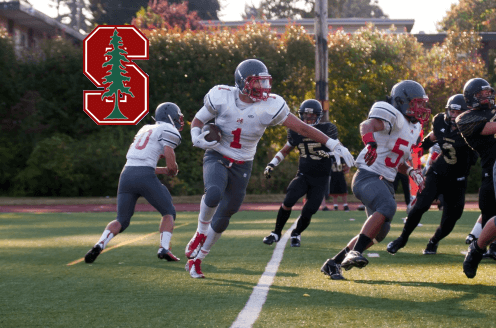 We joked recently about Devante Downs needing his own tab on NEI due to the weekly offers he has been receiving. I'm not joking anymore.
The 6-3 235 RB/LB just landed a big time offer from one of the most prestigious academic institutions in the country in Stanford. On top of that the Cardinal have been one of the more dominant teams in the country as of late.
Downs is an exceptional student so this offer is big on multiple levels. Academics are important to Devante, so you can imagine this one will carry some weight. " I had been speaking to them for the last few months and I really like what the coaches are about". He continued, "They said they could see me playing on either side of the ball, so I was very happy to hear they felt that way".
Devante was the conference player of the year last season after running for over 1300 yards and 23 Td's averaging 7.5 yards per carry. We currently have him ranked the co #1 RB and #1 LB in the state of Washington for the 2014 class. He now has offers from almost everybody outside of Oregon, USC, and UCLA inside the Pac 12.
Downs says, "I'm going to go down there in the next few months and see the campus, Im really excited to check out the school". He is keeping all of his options open, but Stanford is a premier university for any kid that is focused in the classroom.
We wish Downs nothing but continued success, as he is on pace to be a 30+ offer kid before all is said and done.