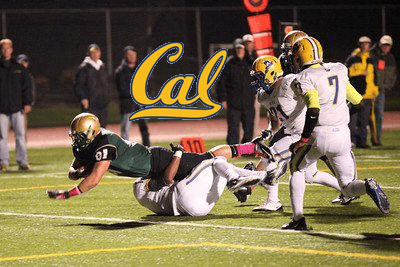 One of the country's top TE's, Henry Mondeaux (6-5 245 Jr. TE/DE) of Jesuit, just opened up his base of schools Thursday as CAL came in and offered the big man as a defensive end.
Mondeaux had already been offered by Oregon St and Washington, with the CAL offer being huge. Henry was a 6-5 inside linebacker for the Crusaders this past season, showing off insane versatility for a kid his size.
Speaking with Henry after he says, "I really liked the D line coach, he seems to know what he is doing and cares about his recruits". He continued, "I haven't seen the school yet, but Im planning on going down during spring break"
Mondeaux had been killing it as a TE at our Elite Events, probably being the most impressive kid we have seen thus far. I have said time and time again that he is one of the top 5 TE's in the country, but his defensive ability is no longer a secret. Very few athletes have Henry's size and body control, but now that all of his talents have been put on display his recruitment could go crazy.
He added, "Its great getting my first true defensive offer, it really opens up my opportunities at the next level" . Lip service aside Henry is a kid that every school can build around. During his state championship basketball run recently, he made it out to every elite event on Sunday. He worked as hard as anybody in the gym while there, never expecting anything to be handed to him.
Mondeaux may be the closest thing to the full package that we have seen in the last half decade. He is that good. Congratulations to Henry on his most recent offer, there will be countless schools coming in over the next year.