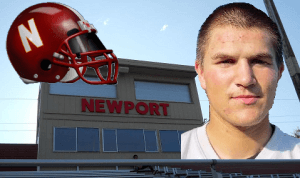 If you are looking for that next potential big time player check out Newport sophomore Calvin Throckmorton (6-6 245 DL/TE), who has started since his freshman season and is well on his way to being one of the most recruited kids in the region.
Throckmorton plays with two of the top juniors in the state in Drew Sample (6-5 235 Jr. TE) and Conner Baumann (6-2 220 Jr. RB/LB). Sample is WA's #1 ranked TE for 2014 and Baumann has jumped up the charts as quickly as anybody.
Newport loses all everything athlete Isaac Dotson, but returns a host of talent that should help the Knights be one of the better teams in the state. Throckmorton finished 3rd on the team in tackles (33), with 4 tackles for loss and 1.5 sacks in 2012. Calvin's shear size and overall athleticism make him very appealing from a college standpoint.
Calvin was part of a talented basketball team that made a run in the state playoffs. He usually plays AAU ball in the spring, but will turn more of his focus to football and preparing for that. "I think we should do well next year, we have a lot of talented kids returning and we are all working hard".
Throckmorton is primarily a DE but also plays TE. Projection wise he has the ideal frame for an offensive tackle so wherever he ends up remains to be scene. Regardless the kids a beast, and is equally talented in the classroom with a 3.9 accumulative GPA.
This could be a big off season for Calvin as individuals with that type of frame don't last long without offers. The best thing about him is that he is an athlete and not just big. Henry Roberts (6-7 270 So. OL) of Bellevue was recently offered by UW, and Trey Adams (6-7 270 So.) of Wentachee has a lot of potential.
We have become big fans of the Newport program, as its a class community with a solid group of parents and athletes. We look forward to following Throck, Sample, Baumann and all of the other talented Newport kids moving forward.