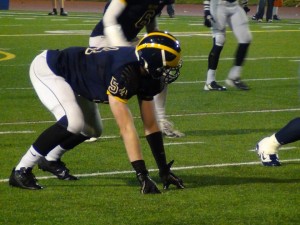 A kid we will hear a lot about over the next 5 months prior to the season starting is Shane Bowman (6-4 255 Jr. DE) out of Bellevue. We currently have him ranked the #2 D lineman in the entire state of Washington, and someone that could very well be the next player offered out of the northwest.
It's still very early in the process and Bowman will have plenty of options when all is said and done. He is heading out to Arizona St this weekend for their Junior day. He attended the Rivals showcase event down in Arizona, where he did very well beating so called 3 and 4 star guys all day.
Bowman has heard from a host of schools including Washington State, Oregon State, Colorado State, ASU, Idaho, and Boise State. "I feel good about my performance in Arizona, I'm going to just continue working hard and focus on what I can control".
Shane has added size and maintained his speed which is where he presents so many match up problems. He comes off the end as hard as any D end in the region, and compares to Conner Humphreys (6-4 250 Jr. DE) of Central Catholic in Portland, who currently has offers from UCLA, Arizona State, Boise State, Oregon State and others.
WA's top ranked DL Marcus Griffin (6-3 285 Jr. DL) says "Shane is my brother on and off the field, I depend on him a lot and he's never let me down". He continued, "I think schools that pass on him should reevaluate the situation, as he is one of the hardest workers I've ever known and not just on the football field"
Bellevue is a factory that just continues to produce top talent throughout the country. The best thing about the athletes on the Wolverines roster is they way the conduct themselves off the field. You will not find a more respectful group of kids, which is the icing on the cake considering they may have been the best team in America last year.
In conclusion we see good things happening for Bowman as Marcus says, "His size, speed, and strength are something uncommon for someone our age". We are big advocates of Shane Bowman and we look forward to bringing you continuous updates as they happen.