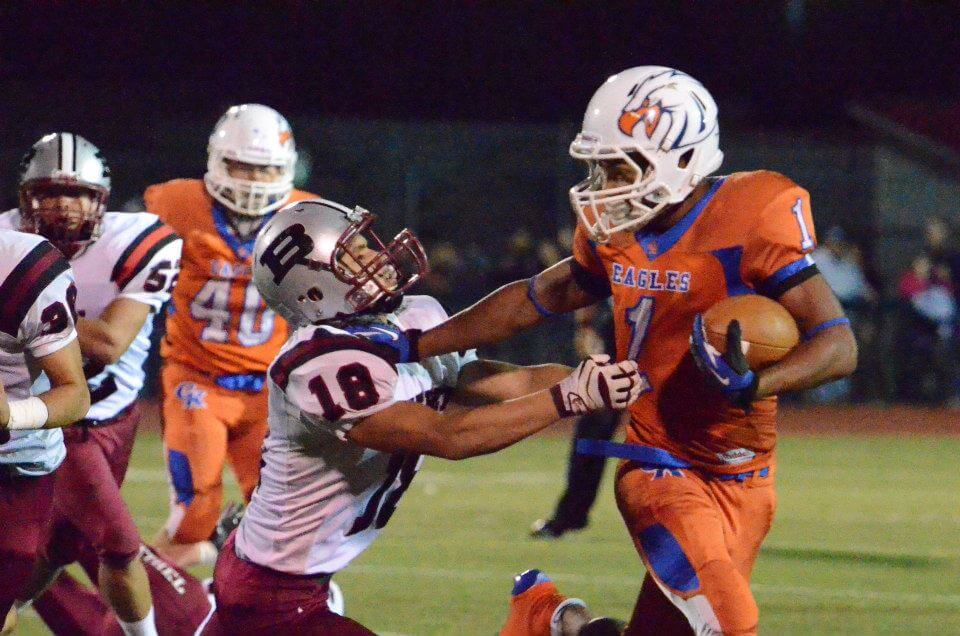 One of the top returning running backs in the entire state of Washington is Teague James (5-10 180, Jr) out of Graham-Kapowsin.
He was the feature back last year for the Eagles and finished with 1,506 yards and 26 TDs on just 151 carries. He was voted a first team All-SPSL and was also awarded a first team All-Area by the Tacoma News Tribune. This all comes after James lost his entire sophomore season to a broken leg in the opening week of the year.
James is an all-around back. He has the speed to get around the corner (4.5 40 yard), but also has the power to go up the middle. His physical play translates over to the defensive side of the ball where he also stars as an outside linebacker.
Attending an Elite Event recently, James showed his skills from the RB position. His speed is an instant eye catcher and his ability to catch the ball out of the backfield was second to none. Right now we have James ranked as our 8th best RB in the 2014 class.
This offseason is big for James as he will most likely carry more of the load for the Eagles who lose D1 bound WR/DB Kahlil Dawson to Portland State. Speaking to NEI James said, "I wanna get to at least 2,000 yards, increase my speed and overall quickness".
The Eagles could very well be back towards the top of the SPSL South this coming season. While they must replace they starting QB Brady Austin, they bring in a sophomore Trevor Asbjornsen who I have seen a lot of this offseason. Asbjornsen has been a fixture at our Elite Events and is getting better on a weekly basis.
They also return a two skill players with past All-SPSL accolades in ATH Dylan Campbell (6-1 185, Jr) and WR/TE Connor Mcleod (6-3 190, Jr). Each player was a 2nd team member as sophomores in 2011. Campbell's coming on the heels of a 769 yard, six TD season. Both should play huge roles in the upcoming season.
Graham-Kapowsin is a school that is slowly growing on me. They have class players, led by a great coaching staff and some of the best community support in the region.