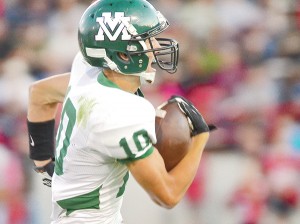 One of the top returning two way players in the entire state of Washington is WR/DB Melvin Walser (6-4 190, Jr) of Mount Vernon.
While the Bulldogs may not have had the most success in the standings, finishing 3-7 overall, Walser was one of the big bright spots.
He finished the season with 55 catches for 948 yards and 7 TDs. Those numbers were good enough to place him as a first team All-Wesco 4A North. His biggest offensive game came in a week three loss to Burlington-Edison. That night he had 15 catches for 292 yards and three TDs.
In a 21-14 week eight win over eventual division champion Monroe, Walser had one of his biggest games. He didn't put up huge numbers, but he came through with two fumble recoveries, one that he took back for a TD, while also scoring a TD on offense.
This past season was big for Walser as he was also voted first team All-Wesco 4A North on the defensive side of the ball. From his defensive back spot he tallied 85 tackles, 2 INTs, 3 PD and 2 FR.
Right now Walser is our 8th WR and 11th DB in the 2014 class player rankings, those rankings are based on collegiate projections.
Walser is not just a football player. He is also a key member of the Mount Vernon basketball team that finished the season 16-9 and were two wins away from the state tournament.
The Bulldogs return some real quality players on both sides of the ball, and a second year in head coach Jay Silver's system could pay dividends. Their biggest loss is All-League QB Bennett Gibson who really was the key to the offense last season.
They do return big time sophomore MLB Tristan Brock who led the team in tackles finishing with 88 total tackles and three sacks. Brock was a first team All-Wesco selection and also spent some time at QB when Gibson wasn't available. Offensively Brock did more running than passing, but he is a capable dual-threat QB.
Along the line the Bulldogs return first team All-Wesco 4A North offensive lineman Max Salgado who will be the senior anchor of an improving group of lineman.
The Mount Vernon defense should be tough next season. Along with Brock, they return junior LB Mitchell Wohlman who finished with 41 tackles, four for a loss and three sacks. The also bring back junior SS Robert Monroe. On the year he tallied 62 tackles, three for a loss and one INT.