Highlights:
Boomer Fleming , Reece Rollins , Jack Bowman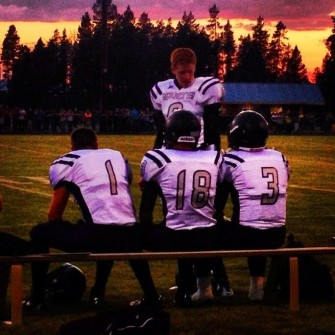 The 2012 football season was definitely exciting for all those that resided in Redmond. The Ridgeview Ravens opened play at the 4A level going (6-4) in their first season of existence. The Panthers of Redmond HS made a deep run, going undefeated before losing in the 5A state semi's.
Its a beautiful community and a place that just continues to grow. The Ravens had a relatively successful first season under head coach Andy Codding with all underclassmen.
They will return everybody along with featured back Boomer Fleming (5-11 190 Jr. RB/S), who comes in ranked one of our top backs for the 2014 class in the State of Oregon. Fleming went for 1,383 rushing yards and 15 Tds , averaging 138.3 yards per game last season. He is a two time state wresting champ, going (34-0) this past year.
Boomer is a 4.0 student taking all AP classes, and hasn't gotten a B since the 6th grade. Whatever he puts his mind to, he seems to deliver. He will likely have offers for wrestling, but he would like to play college football. " I really want to play football, but I will make my decision when I know what all my options are".
Referencing this past season Boomer wanted to talk about his teammates, " I think we meshed well together for being a first year group, and all of the guys like playing for Coach Codding".
Reece Rollins (6-0 175 Jr. RB) and Jack Bowman (5-10 170 Jr. WR) were two of the other big time factors last season. Bowman went off accounting for 12 total Tds, while catching 22 passes for 494 yards and 9 of the teams 10 receiving Tds.
Rollins played a significant role coming out of the backfield, carrying the ball 73 times for 822 yards and 7 Tds, averaging over 11 yards per carry. These numbers helped the Ravens get some big wins, and set the foundation for what could be a very successful 2013 season.
"Phelan Lund (6-2 200 Jr. DE) will be one of the better defensive players in the league, and Coleman Aamodt (5-10 190 Jr. LB) did well at backer for us", said Fleming.
Sophomore Tanner Stevens is another kid that got in the mix as he accounted for 388 yards on 54 carries, and 5 Tds. All of this with Wesley Johns carrying the ball 55 times for 370 yards and 6 Tds. To say that they spread the ball around a little bit would be accurate.
The overall athleticism of the group is outstanding as Bowman was a 2nd team all league hooper with Rollins, Aamodt, and Stevens playing basketball as well. Fleming is one of the most talented wrestlers on the west coast, and Lund also finished 5th in state in the sport.
Add in returning starter Jacob Johnson (6-3 185 Jr) at quarterback and talented receiver Connor McCreary (6-1 200 Jr), and you have a group that could do very well next season. Coach Codding is a players coach, and someone that did a good job of getting a group of underclassmen to buy in and do well at the varsity level.
We look forward to seeing the Ridgeview athletes on our camp and combine tour stop in Bend, and think they could be one of the more relevant up and coming teams in the state of Oregon.