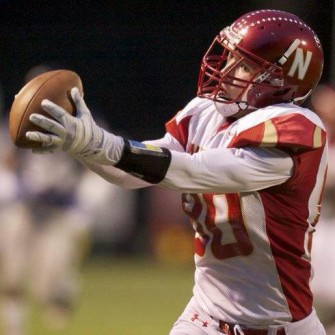 In what turned out to be a successful Junior day for Newport's Drew Sample (6-5 235 Jr. TE), the Montana Grizzlies extended a full ride scholarship offer to the big tight end.
Sample came in our #1 ranked TE for the 2014 class and Saturday he got some really good news. "After it was over Head Coach Mick Delaney pulled me aside and told me they wanted me to come play ball, and they were offering me a scholarship". He continued, "I was pretty excited and went and told my dad who was also very happy to hear the news".
Drew is an outstanding multi-sport kid who led the Knights in receiving last season, with 12 receptions for 218 yards and 5 Tds. Newport kept the ball on the ground most of the time, with all everything QB Isaac Dotson using his feet a great deal in the run oriented system.
Sample's basketball ability exploits his overall athleticism and makes him one of the more appealing recruits moving forward. Drew is one of the more likeable kids you will ever come across, and is someone that you can count on to lead from a team standpoint.
Newport will be one of the better teams in the state this up coming season due to kids like Drew. Referencing the offer Sample says, " Everything is great here with the winning tradition and the coaches…Im looking forward to coming back and getting out to their team camp".
We think the sky is the limit for Drew, as he has the size and potential to play a high level of collegiate football. We look forward to bringing you additional updates as other offers come in.