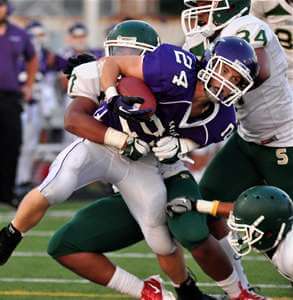 In 2012 one of the most productive backs in the entire state of Washington last year was Austin Hall (6-0 180, Jr) from Kamiak HS in Mukilteo.
Last season for the Knights, Hall rushed 234 times for 1,673 yards and 21 TDs. He was also the teams second leading receiver with 14 receptions, for 232 yards and another two scores. All told he accounted for almost 56% of the Knights total offense from this past season.
Four times this season, Hall rushed for 200 or more yards in a game. He scored at least a TD in every game, including getting in the end zone four times in back to back weeks late in the year. Six times this season he finished a game with 20+ carries, including a season high 43 in a week five loss to Jackson.
Hall is a workhorse and for his efforts was voted first team All-Wesco 4A South by the leagues coaches. He was also a second team All-Area member by the Everett Herald.
With his speed, reported 4.5 40yd dash, Hall has the ability to outrun most defenders. The part I like most about Hall is his toughness. He doesn't shy away from contact and has the ability to take the punishment. Even averaging over 23 carries a game, Hall seemed to get better as the season progressed.
Football is just the beginning of Hall's athletic ability. He also competes for the Knights track team as a sprinter. Recently he finished third in the 100m dash, while his 4x100m relay team took home first place.
Even with all the time Hall invests in athletics, he still manages to sport a 3.1 grade point average.
While last season was not one of the best for the Knights (5-5), the future does show some signs of light. They return two second team All-Wesco offensive lineman Jacob Meuse (6-3 285) and Oleg Avramenko (6-2 220). Those two should help make up for the graduation of senior Ian Hughes.
They also return TE/DE Henderson Belk (6-3 195) who was an honorable mention last year. While only finishing with five catches and 75 yards, his role should expand as he is the leading returning receiver behind Hall. Belk's blocking ability may be where he is most valuable for the Knights.
I look forward to watching Austin this season. The idea of 2,000 yards is something I think he is capable of and would expect nothing less that maximum effort in getting to that mark.