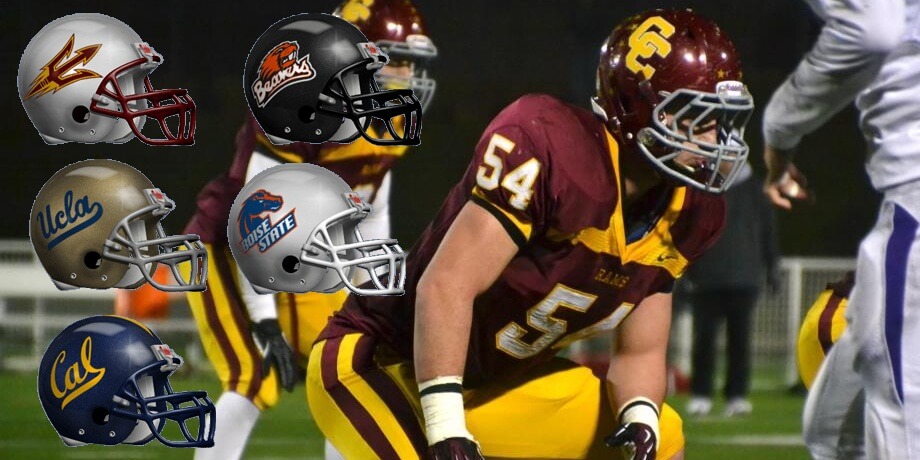 One of the top defensive ends in the country, Connor Humphreys (6-4 260 Jr. Central Catholic), has been lights out in the offer department recently adding UCLA and Boston College.
Humphreys now has 9 offers in all, and doesn't look like he will be slowing down anytime soon. National power USC has been very interested in Connor among many other top ranked schools. He has been offered by the two schools mentioned and Arizona State, California, Oregon State, Boise State, Washington State , Wyoming and Portland State.
The standout defensive end is a phenomenal student (3.8) and is excited to explorer all of his options. "The last couple offers from UCLA and Boston College were huge as both schools have great programs that I could see myself playing for" . He continued, "I want to visit both schools to see if either one could be the right fit for me".
We have had Connor ranked #1 on our board for the last two seasons and he didn't disappoint. He will be part of a Rams team that will come back ranked one of the top teams at the 6A classification level. His 6 sacks and 11 tackles for loss led the team last season, also racking up 74 total tackles in 2012.
Humphreys has the talent to play at the highest level and also the grades. Schools such as Stanford, Notre Dame and Oregon could all very well be some of the high profile collegiate programs to come in. We are only in March and Connor has already put himself in the mix as one of better players nationwide.
We wish him nothing but continued success and look forward to bringing you updates as they happen.