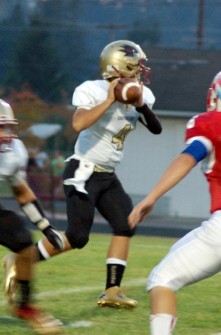 We are 5 short months away from the 2013 season getting underway, and as of right now I would have the Southridge Skyhawks ranked the #2 team in the state of Oregon at the 6A level coming into next year.
A big reason for that is quarterback AJ Woodin (5-11 180 Jr.) and the leadership that he brings to the table. You will not find a kid with a better work ethic as he is your ultimate grinder. He was leading the Metro League in passing yards last year before the return of senior standout Reza Aleaziz.
Woodin has been the general for a Southridge class that has torched opponents growing up, winning 90+ percent of the time. He will have his favorite target in Oregon's #1 ranked Sr. WR Jordan Morgan (6-2 195 Jr. WR), who already holds offers from San Jose St and Portland St.
Largely unknown but super talented WR Alex Beekman (6-0 180 Jr. WR/K) will also play a key role, along with 2 of the state's top 4 backs in Devin Martinez (5-8 190 Jr. RB) and Jake Pruit (6-3 215 Jr. RB/LB).
Third year starter Mike Varadi (6-1 225 Jr. FB/LB) will be a leader on both sides of the ball, while the line and the secondary is littered with talent. You will not find a better coaching staff from top to bottom, and the pieces are in place for the Skyhawks to make a run next season.
Woodin comes into 2013 feeling like he has something to prove. "We want to win the Metro title again and feel like we should, with all of the experience that we have returning". He continued, "We won't get out worked and I think that is one of the most important aspects to us as a team".
AJ is a leader in every sense of the word and Southridge will only go as far as he can take them. He knows that he will have to play lights out if they want to win a title, and he is up for the challenge. "Our entire line returns so I'm going to be well taken care of, I'm really looking forward to getting the season under way".
The Skyhawks have a legit shot of making a run next year, and we will keep you updated over the off season as AJ hits a host of college and team camps.