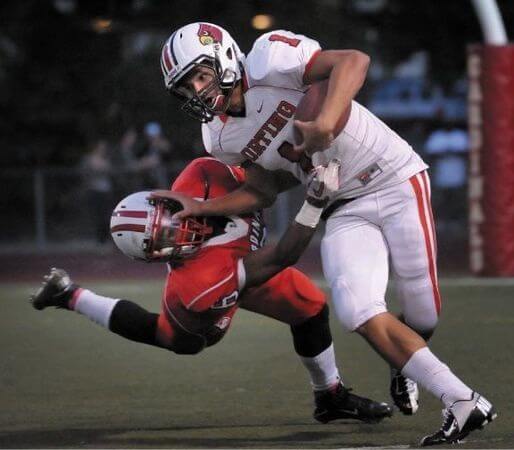 One of the top returning small school athletes is junior running back Jaysen Yoro (5-11 175) of Orting.
Yoro is a two way star for the Cardinals. He also returns punts, kickoffs, and rarely leaves the field.
This past season the Cardinals made the jump from the 1A Nisqually League up to the SPSL 2A. They finished 6-5 on the season with a first round playoff loss to Burlington-Edison.
In 2012 Yoro finished with 1,103 yards rushing and 18 TDs on his way to being named the SPSL 2A Athlete of The Year. He was also a first team defensive member at LB where he had 50 tackles and four INTs.
As a sophomore Yoro was again All-League, this time being a first team RB in the 1A Nisqually. On the year he rushed for 579 yards and seven TDs. Defensively he came in with 38 tackles as a DB.
Yoro is a multi sport athlete. He has also played guard on the basketball and participates in track and field.
Last track season Yoro finished fourth in the state in the 100m dash with a time of 11 seconds. He took second in the 200m dash finishing with a time of 22.58 seconds. Yoro and crew also finished second in the 4x100m relay. Adding to his versatility, Yoro also finished 6th in the high jump, clearing a 6'2″.
The Cardinals could be on the favorites to win the SPSL 2A next season, with Fife. Returning their two mos productive backs, adding junior Connor Rose (5-10 180, 597 yards, 5 TDs), should really help the run oriented offense. This is the second season in a row that Rose has put up solid numbers after rushing for 699 yards and 10 TDs as a sophomore.
Defensively they return one of the leagues better DBs in junior Josh Hipple (5-11 170). Last season he finished with 25 tackles and led the team with 5 INTs. He was voted as a 2nd team All-SPSL last season by the leagues coaches.
Orting coach Marty Parkhurt and his staff have done a great job with the adjustment to 2A and I can only expect bigger things in 2013.