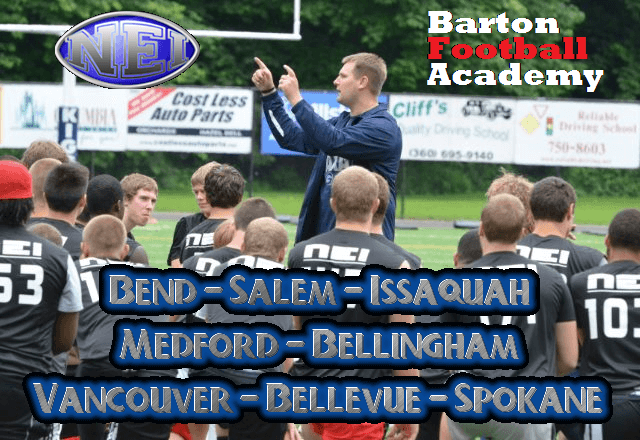 All of us at the Barton Football Academy and Northwest Elite Index are excited to announce our second annual Camp and Combine Tour, which will begin in Bend, Oregon at Summit HS on April 14th.
Our goal is to come to you, to each region within the northwest, allowing us to see ALL of the kids within each given area. By putting on these events our evaluations become much more accurate, getting to see everyone up close and personal.
Every camp/combine is documented via video, and all of the testing that is done is used time and time again by colleges interested in specific athletes. As most of you know the Barton Football Academy is the largest in the northwest, with our coaching staff consisting of a lineup of former D1 and NFL players and coaches.
Not only will we be hosting the events for high school athletes, youth football players will also have their own camp/combine during the day.
We have never been in a better position to help our NW kids that want to play football at the next level. We look forward to seeing you all at multiple tour stops starting April 14th.

APRIL 14 – Bend, OR – Summit HS – Youth 9:00am-11:30am – HS Noon-3:00pm
APRIL 21 – Salem, OR
APRIL 28 – Issaquah, WA
MAY 5 – Medford, OR
May 12 – Bellingham, WA
May 19 – Vancouver, WA
May 26 – Bellevue, WA
Memorial Day Weekend – Battle In Seattle, The northwest's largest 7-on-7 tournament
June 2 – Spokane, WA
June 30 – Showcase Event
Barton Football testimonies and video:
"The training and coaching I received at Barton camps when I was younger was instrumental in helping develop me into the player I am today" Aaron Rodgers – QB, Green Bay Packers, Super Bowl Champion
"Taylor Barton and his staff are just awesome. They are good people that are helping kids in this region. I wish we had more people like them" Mike Riley – Head Coach, Oregon State University
"Without Barton Football, I would not make it into the University of Oregon or NFL, period" Kellen Clemens – QB, St. Louis Rams
Brayden Kearsley (6-5 300 Aloha) One of the top 10 lineman in the country… Signed – BYU
Johnny Ragin (6-3 225 Wilsonville) Offered by Oregon, Oregon State, BYU, Colorado, Iowa, Nevada etc.. Signed – CAL