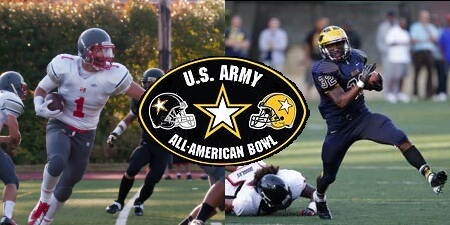 Last week Washington athletes Budda Baker (5-11 190 Jr. ATH/DB) and Devante Downs (6-3 235 Jr. RB/LB) were selected to participate in the prestigious Army All American Game next season.
It's the highest of honors for some of the country's top athletes and both kids are excited about the opportunity. Budda says, "Devante and I just started talking and now we are now good friends.. He is a successful strong downhill runner and both of us are thankful that we were invited".
He continued, "We both know that there are going to be guys out there like us, and we gotta work to show people throughout the country that we are real".
Baker will be attempting to lead his Wolverines to another state championship, after last year's group finished a top the charts nationally and was ranked as high as #1 in the final polls. Budda is one of the top athletes to ever come through the state of Washington, and projects as a DB that could have a very successful college and professional career.
He has been offered by the likes of Notre Dame and Oregon along with many others (Arizona, Arizona State, Boise State, Colorado, Oregon State, Purdue, UCLA, Utah, Washington, Washington State).
You can expect SEC schools and almost every other top school in America to come in on Baker before all is said and done. He could very well be the best defensive back in the U.S for the 2014 class.
Downs is an equally impressive Eddie George type back. He was the Conference Player of the Year last season for a school that has never been a traditional football power. Downs went for 23 Tds and 1300 yards, averaging 7.5 yards per carry while also being ranked our #1 LB within the state.
Downs has been on fire in the offer department as of late adding a new scholarship offer almost weekly… Now sitting with 11 in all (Stanford, Arizona State, Boise State, California, Colorado State, Oregon State, Utah, Vanderbilt, Washington, Washington State). He takes his academics very seriously as indicated by his most recent offer from Stanford.
Referencing the Army All American game and his friendship with Budda he says, "It's the greatest honor you can receive for your achievements on and off the field so I'm thankful and humbled by it all". He added, "It's a great opportunity for me to show that I'm able to compete with the best of the best".
As for Budda, "I think he's a great player that can do a lot of different things on the field… We met at a U Dub practice and have become better friends since football season, talking regularly over the week".
Both of these kids do phenomenal things on the field, but importantly off it. We are excited for both Budda and Devante, as we for see both of them being two of the top players to EVER come out of the Pacific Northwest.