Highlights: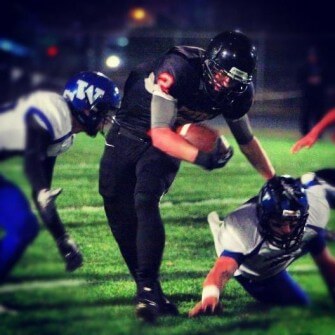 One of the state's top returning 5A teams next season will be the John Mannion led Silverton Foxes. They return a host of talent from last years (12-1) group that lost to Sherwood in the state semi finals.
Leading the crew will be a pair of kids that are two of the most well rounded athletes in the region. Cole Chandler (6-1 180 So. QB) is considered one of the top 5 sophomore QB's in Oregon, and Jonas Dahl (6-2 185 Jr. WR) is one of the fastest rising receivers in the state.
Dahl has been a fixture at our elite events with the top athletes from around region and been very impressive. His football knowledge and overall athleticism have been key. Jonas was the starting quarterback as a sophomore, but made the transition nicely to wide out when Cole got in the mix.
He says, "Cole is one of the top QB's in the state, and our friendship and mutual understanding of the passing game correlates to the chemistry we have through the air". He continued, "Our team has been lifting since January, building up toward spring practice in May as Silverton is a very family oriented program…. We look forward to making another run toward the State Championship in 2013".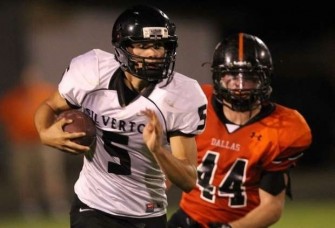 Coach Mannion is the father of Oregon State QB Sean Mannion, as sophomore quarterback Cole Chandler is reaping the rewards of having a players coach and someone that knows the position. Chandler is a three sport athlete that maintains a 4.0 GPA with all honors classes. To put his skills into perspective he earned 1st team all league honors at quarterback, in maybe the state's toughest 5A conference as a sophomore.
Cole has legit size and unique leadership ability for a young quarterback that could help him a great deal moving forward. " We return a bunch of talented guys on our line so im excited about that, and I think our skill kids are really going to step up".
Chandler is talking about three 1st team all league lineman that are back in (Matt Craig Jr. 6-0 205 DL, Joseph Kuenzi Jr. 6-1 230 C, Matt Willis Jr. 6-4 225 OL). They will also feature an outstanding defense that was one of the best in Oregon 5a history last season. The D allowed 7 points or fewer in nine of their 13 ball games, pitching 4 shut outs in the process.
Cole says, "Our whole coaching staff is great, they know how to keep us productive and on task while making things fun". Jonas and Cole have a lot in common as both are elite students (Jonas 3.6 AP) and people. Both kids just helped the Silverton basketball team make a run at a state title, and they are showing no signs up letting up in football.
"Max Wilson and Cort Martin will both be big for us next season and we have a ton of other kids that are working hard", says Chandler.
We are excited to follow the Foxes into 2013, as kids like Dahl and Chandler are the type of athletes we love to root for. Silverton runs a great program, and we give a lot of credit to Coach Mannion and his staff for the kids that they produce.