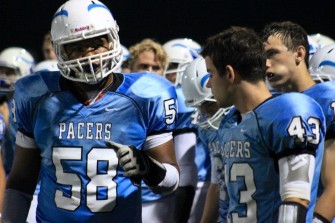 A kid you will hear a lot about in the coming months will be one of Oregon's top ranked D ends in Marqueese Royster (6-1 250 Jr.). Many know the standout D lineman from last years 12.5 sack season, where he also led the Pacers in total tackles and tackles for loss.
As we have stated many times before Marqueese is from a long line of professional athletes. His father Marcus played NFL and arena ball, while his uncle Mazio Royster was an All American at USC, before going on to a successful pro career with Tampa Bay and Jacksonville.
Royster's talent speaks for itself, but at 6-1 one questions what position he will play in college. He will be a TRL Defensive Player of the Year Candidate in 2013 and one of better players in the state, but like a lot of talented kids D1 schools are trying to figure out where he will play.
Marqueese says, "I can play with my hand on the ground and also standing up, and I take pride in hitting people and playing violently". Its this demeanor combined with his 335 pound bench press that make you stand up and take notice when he is on the field.
He is young for the grade and will be 17 when he graduates, all the more making what he has done thus far very impressive. Lakeridge went (3-8) last season for a team that's record was somewhat deceiving. Eric Dungey is one of the region's top QB's for the 2015 class and will be back to lead Lakeridge offensively.
Marqueese's younger cousin Massen Newton is one of the better freshman D lineman in the state, with outstanding quicks and strength for his age. He was the only frosh on the varsity roster last season.
Royster is ranked the 33rd strong side defensive end in the country by 247 Sports, while we at NEI have him ranked the #4 DL in Oregon for the 2014 class. Expect big things out of 'Queese and his Pacers this up coming season, as he is one of the most dedicated athletes we have come across.