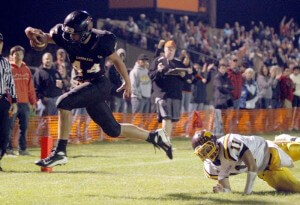 Recently I named the Zillah Leopards my #1 team in the 1A classification for the 2013 season. A big reason for that ranking is the outstanding play of junior Kurt Calhoun (6-1 200).
Last season Calhoun rushed 232 times for 1,987 yards and had 30 total TDs. He was considered a first team All-League and second team All-State RB. The Leopards would finish the season 9-2 and were SCAC West Champions.
This coming season will be Calhoun's fourth as a starter for the Zillah. As just a freshman he started at DE, and as a sophomore he led the Leopards in rushing with 85 carries, 619 yards and three TDs. He was voted second team All-League at DE and was given honorable mention for his work at RB.
Speaking to NEI, Leopards head coach Tim Strother says, "As a player Kurt has a lot of talent, he can play multiple positions. He has started at DL/OLB since his freshmen year". He continues, "This year he became our feature back and blossomed as a running back after sharing the carries the year before".
Calhoun is a three sport star for the school of about 300 student. He has been starting at CF for the baseball team since his freshman season when he was earned second team All-League honors. Between those two, Calhoun is also a starter on the basketball team.
Athletics are something that is big in the Calhoun family. Kurt's father Steve played college football at Portland State, while his older brother Tim, also a three sport star at Zillah, was the 2002 Big Sky Freshman of the Year for the Eastern Washington Eagles.
Tim and Steve run Calhoun Family Fruits, a roughly 150 acre farm in Wapato. "We sell almost all our own fruit at farm. I work all summer helping my brother load trucks with our fruit," Kurt says. "When my dad isn't at the farm he runs his restaurant, Majors, which is in Yakima. My mom is a school teacher and she teaches middle school science".
While you may or may not recognize their names, most will remember his uncle Dr. Dan Doornink who starred at Wapato HS before moving on to WSU and eventually into the NFL with the New York Giants and Seattle Seahawks.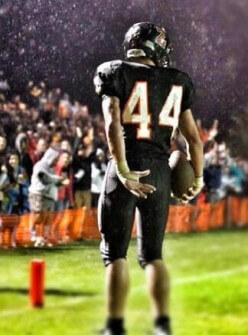 Hard work is clearly something that comes in the family. "I wake up at 4:30 AM and work out at the YMCA with my brother Tim before school 4 days a week," said Calhoun. "I watch film, work out, and keep getting mentally ready for next year. I want to to be the smartest, biggest, strongest, and most athletic guy on the field at all times".
Coach Strother lauded about Calhoun's work ethic, "He is a hard worker and his work ethic rubs off on the rest of the team. He is one of our leaders and has shown positive leadership skills that have helped the team in many ways".
The Leopards have more All-State returners than any team in the state. The biggest of them all is junior lineman Reggie Chumley (5-11 240). He was a first team member on both sides of the line. "Reggie is just twice the man of anyone in our leargue, he can put anyone on their butts at anytime and is a stud on deffense," Calhoun says. "I can't wait to play with him next year, I'm planning to run right behind him as much as possible".
What Calhoun is to the rushing game, junior Brady Widner (6-0 165) is to the passing game. Last season Widner finished with 34 catches, 728 yards and 14 TDs. Widner was a first team All-State defensive back and All-purpose player. He was also a second team WR and a player Calhoun describes as, "One of the most athletic kids I know".
Anchoring the linebacking core on defense is junior Johnny Mengarelli (5-10 185). Calhoun says, "Johnny is coming off a shoulder surgery that should make him better next year. I mean, he was playing with one shoulder and still got awarded second team All-State LB".
Leading the way for Calhoun, while also being the teams second leading rusher, is sophomore Diego Hernandez. "He is our 5'6″ fullback who is a tough little bowling ball". Calhoun continues, "As a sophomore, Diego had tons of great blocks for the team and really proved himself as a runner as well".
The biggest loss from last season may be QB Jace Mckay, but Calhoun feels confident in his replacement. "Justin Dunsmore is going to be our new QB. He will be a junior and is a very athletic, tall guy, mostly known as a basketball player". He continued, "He knows our offense like the back of his hand and if he plays like I know he can our offense will have a tough time being stopped".
The Leopards have playmakers all over the field. AJ Waterman (5-11 180, Jr TE/LB) and Hunter King (5-9 170, Jr DB) are two athletes who don't get the recognition, but are very good players that help confirm Zillah's top ranking. "He has put on tons of muscle and has gotten a lot bigger and faster from last year. I'm ready to see some of the blocks he makes for our team next year," Calhoun says of Waterman.
Describing King, Calhoun say, "Hunter is one of those kids that flies around and tries to get his head in every tackle. He will be one of our starting corners in our cover 3 defense and will move to safety with Brady in cover 4".
Calhoun is the ultimate team player and a kid that gets it. Had I given him the opportunity, I am sure he would've given every teammate credit. In closing I will leave you with one of his more important quotes. "Without everyone knowing and doing their role the whole team could fall apart".