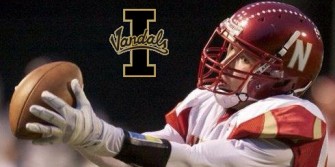 One of the fastest rising recruits in the state of Washington, Drew Sample (6-5 235 Jr. TE/DE) of Newport, grabbed his second D1 offer at Idaho's Junior day less then 24 hours ago.
Sample was offered just last weekend by the University of Montana in a similar setting. The big man out of Newport is one of the most grounded kids you are ever going to meet, and looks to be an athlete that could potentially have multiple Pac 12 offers before all is said and done.
Drew has ideal D1 size for the position with unlimited potential. He is an outstanding basketball player and shows a lot of those traits on the football field. We have had Sample ranked in the #1 spot since the 2014 rankings were released for these reasons. He brings so much to the table on and off the field that his upside won't quit.
After the offer Drew shot a text that read, "Idaho just offered after their Junior Day!" We are excited for Sample and all of the things he has to look forward to. He is a class kid and someone that we are big advocates of.