Click for Chase Marshall Highlights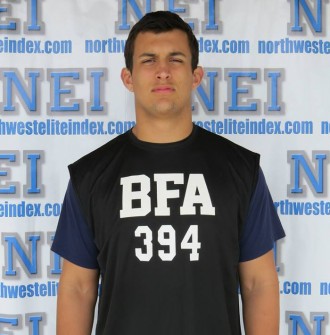 One of the top players in the Northwest, currently moving up the charts is 6-3 230 pound LB Chase Marshall out of Lakeridge. He is fresh off winning a state lacrosse title after earning 1st team all league and 2nd team all state honors as a junior.
As talented as he is as a lacrosse athlete, his focus remains on football and having the best senior year possible. Chase will be a three year starter after putting up outstanding numbers as a sophomore, and leading the team in tackles as a junior. He has been training with elite Barton Football Academy Coach Ryan McCants who knows what it takes to play at the highest level.
Ryan was a high profile kid out of Corona, California before a solid career with the Oregon State Beavers at tailback. Referencing Marshall he says, "Chase has a D1 frame and I could see him playing at around 235, with 4.6 speed." He continued, " We have worked together on some combine prep stuff and he's a bright kid that picks up things quickly…I plan on working with him some more this summer and focusing on strength, body composition, speed and agility."
McCants knows what's up after going through the NFL Combine himself. "If Chase can hone in on some of those things in the next few months, I believe he will have multiple offers by the end of his senior season."
Marshall was averaging over 10 tackles a game as a junior, and led the state in sacks among sophomore LB's two years ago. He is big and fast and has a huge upside due to his overall athleticism. He sports a 3.6 GPA with AP classes, and is just an overall good kid.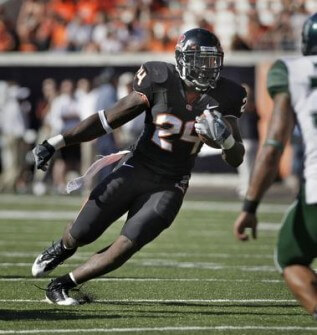 This past weekend Chase did very well at the NIKE SPARQ Combine, testing and cutting his times significantly since working with McCants. He says, "Working with Ryan has been a blast, he obviously knows what he is talking about which makes it that much easier to buy in….The fact that he helped me get noticeable improvement quickly makes it all the more better." Marshall scored a 85.26 at SPARQ, finishing in the 90th percentile in the (40 yard dash) 4.76, (Peak Power) 7160 Watts, and (Shuttle) 4.35.
The Pacers went (3-8) last season but bring back some talented kids that give them a chance moving forward. They will play in top to bottom, probably the most competitive league in Oregon (TRL). Chase says, " I think we will be a lot better next year, as we are moving in the right direction."
They don't have a lot of size up front which will be the biggest question mark, as Marshall will play more of a Fullback/Tight End type position offensively this season. The 2014 Oregon LB's could be the top group in state history with the top five ranked kids on our board already having D1 offers, with Marshall coming in at #7 and moving up quickly. You can't teach size and speed and Chase has both.
We look forward to bringing you updates on Marshall as the season progresses. He's a class kid and has a very bright future.