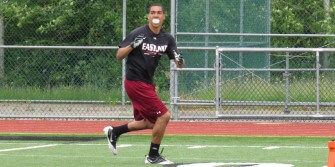 Lewis, whose older brother Ryan is a scholarship player at PITT, is coming off a breakout campaign in which he had 1368 all-purpose yards (928 rushing, 440 receiving) and 14 TD's during a down year in which the Wolves made a coaching change after the start of the season.
We recently caught up with Drew at the Skyline Skills and Drills on the Hill Tourney to talk about where things are at for him in the recruiting process, which side of the ball he hopes to play at the next level, and find out how the Wolves are transitioning under new head coach, Don Bartell.
The 6-foot-3, 190-pounder is surrounded by plenty of talent at Eastlake including the likes of Richard "Blue" Thomas, Jeffrey Feinglas and Gage Casal, but Lewis also tells us about some other players on the Wolves' roster to look out for this fall.