Click for Salvon Ahmed Highlights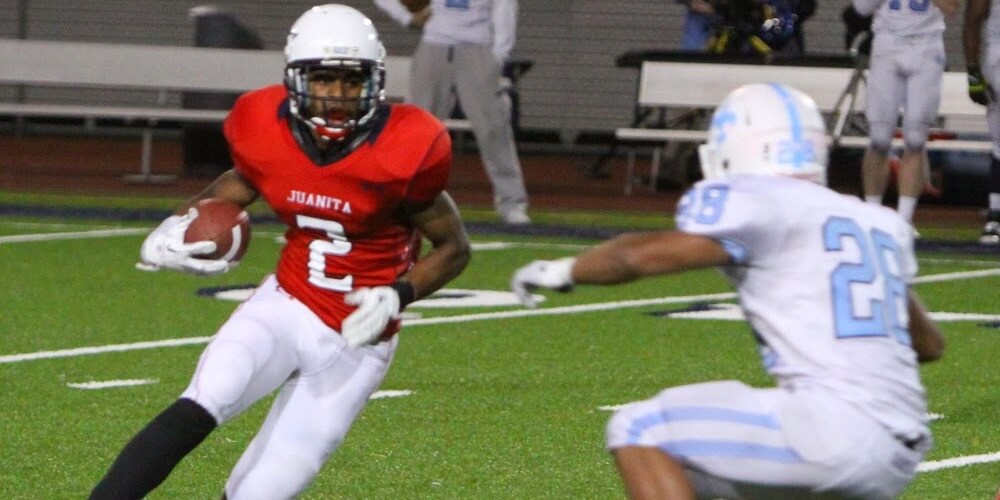 One of the most exciting players in the nation for the class of 2017 just received some good news, being named one of the top 50 players in the country. Salvon Ahmed (5-11 165 Slot/CB) of Juanita HS was selected to the Freshman Army All American Game in San Antonio, Texas during January's premier event.
The kid out of Kirkland, Washington is someone we got to know well last year, as he put together a 8th grade single game highlight reel that you had to see to believe. Ahmed got in the mix for Shaun Tarantola's Juanita Rebels this season and rushed for over 500 yards and 6 TD's, not counting the other 5 touchdowns that were called back. He was 2nd on the team in receiving yards and receptions to senior Landyn Milburn and played some outstanding defense to boot, starting multiple games from his corner spot.
The Rebels finished (8-3) missing out on the playoffs after a loss to Mercer Island as Ahmed says, "We were disappointed with the way we finished cause we really wanted it for the senior group". He continued, "The upperclassmen were great, taking me in and showing me the ropes early as I got adjusted."
Referencing the Army All American game Salvon says, "Its truly an honor and I just want to go out there, work hard, and represent." Ahmed is the exception to the rule when referencing age and could very well grab multiple D1 offers this season. Watching his film you see a kid that does things you can't teach. He is the true definition of a game breaker, and much like Budda Baker, is someone that we will be seeing playing on Saturday's and Sunday's for years to come.
Salvon is one of the top basketball players in the state for his class, and will also participate in the 100 Meters and the 4 x 100 on the track. He currently holds a 3.6 GPA showing that he can get his work done on and off the field.
Ahmed was an MVP Underclassmen on the Barton Camp and Combine Tour this past off season and a kid that is looking forward to next year saying, "We bring back a lot of talent and expect a lot out of ourselves next year." Congrats to Salvon as he is a phenomenal kid and could very well be one of the best athletes to come out of the Northwest in some time.