Click For Dillon Sugg Highlights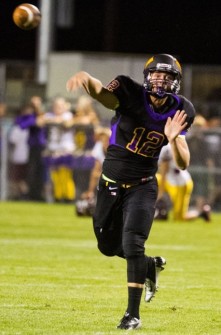 Coming into 2013, the Wenatchee Panthers were the overwhelming favorite to win the Big-9 Conference. When all was said and done, they did just that. A big reason has been the play of Senior QB Dillon Sugg (6'5″ 215).
With one of the state's top recruits, Isaiah Brandt-Sims, being the main offensive focus, Sugg has managed thus far to throw for over 1,800 yards and 16 TDs, while completing around 60% of his passes. These numbers come while Sugg rarely played a full four quarters, sometimes coming out just a series or two into the third.
Sugg is also one of the better all-around athletes in the state participating in both Basketball and Track. As a sophomore, Sugg took over the job at QB and hasn't looked back. He was, at the time, a three sport varsity player. As a freshman, played both baseball and basketball, earning 2nd team All-League in the latter.
Having versatility is something Sugg embraces. "I am more than willing to play whatever position will benefit my team," Sugg told NEI. "I am a pocket passer, I throw well on the run, and I may not be the most mobile QB but I know how to get yards and once I get going I am hard to take down. I lead vocally and by example–outworking those around me not only in practice, but behind the scenes where it often counts most for a QB."
Off the field, he sports a 3.56, while also helping out in the community when possible. "I have had to work hard for the grades I have achieved–but I think that diligence will work in my favor at the college level," Sugg says.
He continued, "I am very involved in my community with volunteering and helping young kids any opportunity I have. I have worked at lots of camps and actually worked in our school district's day care for two summers."
Sugg is a player we have gotten to know really well over the past two offseasons. He consistently traveled close to three hours each way, bringing along teammates, to train with QB coach Taylor Barton. "I want to be remembered as a great leader for my team on and off the field–be remembered not for setting multiple QB records in our school history (Wenatchee has set multiple records this season), but also being one of the best leaders of a football team in our school's history," Sugg said.
The Panthers head into the state playoffs as the #1 seed out of the Big-9 Conference and will host the Gig Harbor Tides (8-2) on Saturday. "We want to win our first round playoff game and then focus on the next round". Sugg continues, "Regardless of if we win it all or not, to have all of my teammates be proud of the effort we gave in the post season. Be a good enough leader that my teammates and I play to a level above what we think we can achieve."
Most of the college interest in Sugg has been from the D-II and D-III levels. He plans on taking a trip to Simon Fraser (Burnaby, BC.) to check out the facilities, but for now is keeping his options open. With the physical tool and determination, there is no doubt Sugg can succeed at the next level.