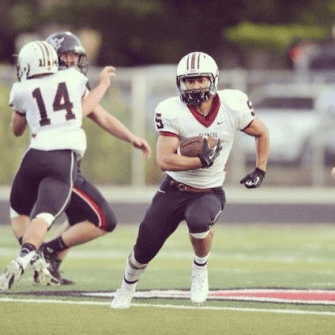 The biggest upset state wide last week came at the hands of the Glencoe Crimson Tide, after traveling to traditional CVC power West Salem (8-1) and grabbing a 49-34 win over a good Titan team.
Head coach Steve Jones has done an outstanding job of getting his guys to focus on the task at hand, which showed in last Friday's big upset. Time and time again 1st team all league Pacific Conference back Kainoa Hanchett (5-9 180 Sr. RB/S) has been the go to guy, being one of the breakout performers within the state of Oregon this season. Glencoe lost a talented senior group last year and didn't bring back a ton of experience, so the vast improvement that they made was significant.
The Tide sit at (6-4) and will travel to #8 Clackamas (8-2), as they look to continue their post season run in the 2nd round of the Playoffs. Hanchett carried the ball 36 times for 214 yards and 3 TDs in last week's victory, as talented junior Anthony Lambert (5-5 165 Slot) also got in the mix rushing for 140 yards and 3 Td's on only 11 carries.
Referencing the win Hanchett says, "Once post season came we knew it was do or die and none of us were ready for the season to be over". He continued, "Wednesday morning one of our teammates (Jake Henry) had his girlfriend pass away, so we all had a little extra fire in our hearts playing for her and Jake (Big Red)."
Glencoe had a number of kids step up this season with Hanchett being the most high profile. Speaking to his guys he says, " Matt Fields (5-8 165 Sr. DB) was really the only other kid from the 2014 class that started with me last year besides our offensive line, and he has done a great job from his corner spot". Kainoa added, "Andre Becton (5-8 145 Sr. ATH) and David Vanoudenhagen (6-1 200 Sr. OL/DL) both earned 1st team all league honors and are talented overall athletes."
Kyle Campbell (6-2 215 Sr. TE) was one of the more underrated kids in the conference, as he has an outstanding frame and big upside if he wants to pursue football at the next level. Walker Rabon (6-1 300 Sr. OL), Tom Ward 5-11 170 Jr. (Hon mention RB), Dylan Marsh 6-2 190 Sr. (2nd team LB), and Devin Jones (5-9 170 Jr. LB/RB) all played a big role this season as Kainoa mentioned each as being very influential.
Hanchett says, "I want to give a shout out to my entire offensive line as I couldn't have done anything without them". He is a very humble and appreciative kid saying, "I just want to thank god for blessing me with the ability to play football… I'm extremely grateful for my supportive family who comes out each and every game, and I have a lot of love for my coaches and teammates."
Glencoe has its work cut out traveling to play a very talented Cavalier team. That said Hanchett has had a monster year and is playing his best ball of the season. He has accumulated over 1000 yards on the ground and double digit TD's, making him one of the statistical leaders within Oregon at the 6A level.
If the Tide can pull off another upset they will most likely face #1 ranked Central Catholic in the quarterfinals. Congrats to the Hillsboro based kids as they have put together a quality season. We will keep you updated on Hanchett and the entire group as the year unfolds.