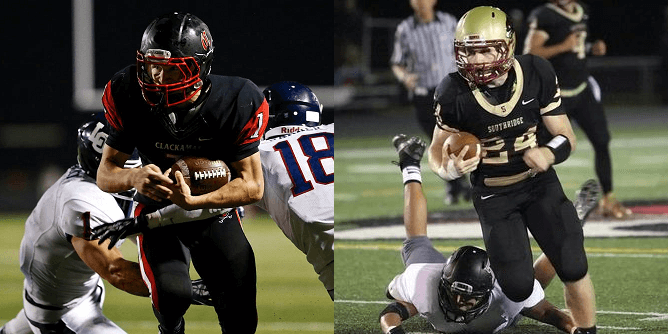 As we move deeper into the playoffs two of Oregon's top players are not the biggest in stature, but are both incredibly talented. TRL Player of the Year Daniel Sherrell (5-9 170 Sr. RB) of Clackamas, and 1st team all conference back Devin Martinez (5-6 171 Sr. RB) of Southridge went off again in 2013 and will be crucial for their clubs during the post season.
Sherrell has been the state leader in rushing at the 6A level for the last two years accumulating 3, 905 yards on the ground and 54 rushing TDs. He is currently sitting with 1,803 yards and 27 total TDs on the season, averaging 7.7 yards per carry. Dan is not your prototypical back, but he has been the unquestioned leader for the Cavs out of the backfield with no one fully being able to contain him.
Clackamas sits at (8-2) with losses to Lake Oswego and Oregon City with Sherrell showing off unique toughness and speed week after week. Describing "Smiley" is difficult as you don't think phenomenal athlete the first time you see him. That said the kid is real. He is an individual that will be good at whatever he decides to pursue in life, but for the time being he wants a state title saying, "This is a huge year and a special group of seniors, as the season has brought us closer and made us hungry to make a playoff run."
The Cavs will most likely face #1 ranked Central Catholic in the quarterfinals with a win this week. For the time being they are focused on Glencoe as Sherrell added, "We haven't stopped working and we aim to get better every week as the competition improves as well.
Martinez is another kid that will go down as one of the better backs in Metro League history, as he earned 1st team all league honors as a sophomore in what many consider the state's toughest conference. At 5-6 Devin is very similar to Dan in that you don't think "all state" back at first glance. Get him on the field and he runs you ragged.
He is a power back that can out run you, as last weeks performance was just a glimpse of what Martinez has been doing for the last three seasons. Devin dropped 207 yards, while scoring all 4 of the team's TD's in their 1st round 28-20 playoff win over West Linn. He has now rushed for over 1500 yards on the season with 19 TD's, on a team with another one of the state's top backs in Jake Pruit (Sr. 6-3 200).
Southridge (7-3) is in a unique position as a team with 30+ seniors. They have turned away from the passing game and implemented the wildcat, even with Arizona commit Jordan Morgan at WR and last years Metro League passing leader AJ Woodin at QB. If this remains the case it will be the Devin Martinez show for as long as the Skyhawks are in the playoffs.
Devin says, "We all know that the teams we play from here on out won't be easy and aren't going to roll over and give up". He continued,"For the rest of the season we need to focus on what needs to be done as a team and just keep moving forward."
Clackamas and Southridge are two of the better 6A teams in the state, and they will only go as far as Sherrell and Martinez will take them. Both athletes are quality kids on and off the field and we will keep you updated on their progress as the season concludes.