Click for Evan Johnson Highlights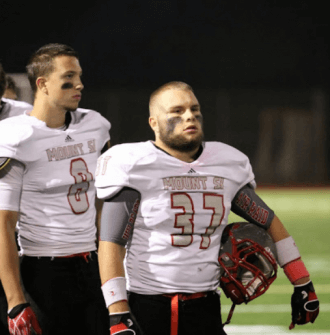 It was about this time last year I reported on Mount Si LB Hank Van Liew (Concordia-Moorhead) and his importance to the Wilcats. This year, in the form of Van Liew, I give you LB Evan Johnson (Sr. 5'8″ 200).
Through nine games, Johnson leads KingCo 3A in tackles (77) and tackles for a loss (16). For the second straight season, the Wildcats are 9-1 with their only regular season loss coming to the national ranked Bellevue Wolverines.
Johnson brings many great things on and off the field to the Wildcats, and is someone longtime Mount Si head coach Charlie Kinnune speaks highly of. "Evan is one of the most unique student athletes I have had the opportunity to coach in my career," Kinnune said. "He has the talent and the emotion to lead any group he is a part of. Evan is our lightening rod. He is our emotional leader who cares deeply about his teammates and coaches."
Kinnune continued, "Evan has played multiple positions for us this year. Fullback, slot receiver, Linebacker and Defensive Tackle. He has had a huge impact on our team and in our league this season"
For a while now, Johnson has been know as a baseball player, and rightfully so. Last season he led Kingco 3A in batting average during league play (.512) and finished the season with a .450 batting average. He had 13 doubles (new school record) and had 24 RBIs in just 25 games. Johnson was selected 1st team All-State as a DH, 1st team All-Area as an OF, and has already been offered by Whitworth University for baseball.
"I know baseball will be my first key in college selection process. I have heard some athletes at the Division III level are doing both so I want to work to do the same," Johnson told NEI. "If I also played college football I would want to focus on defense at the linebacker position. The friday night lights really have stuck with me and have made me want to play at the next level."
Johnson has already visited Linfield, Pacific, Whitworth, Central Washington, Western Oregon and Gonzaga. To this point, his only official visit has been to Whitworth. Johnson says, "I plan on making my decision before baseball season next spring so I can focus on the team and not have to make the decisions later rather than sooner."
Right now Johnson plans on officially visiting Pacific University (Ore.) and Pacific Lutheran University, but Whitworth may have the early lead. "I am really considering Whitworth University next year. I loved what the school had to offer. The coaching staff for the baseball team was what made me most interested". Johnson continues, "The location, campus, and overall feel was exactly what I was looking for. Baseball would be a for sure at Whitworth, football would be a question."
Tonight the Wildcats return to the gridiron to face off against the #2 ranked O'Dea Fighting Irish and their vaunted rushing attack. Johnson and his teammates are up to the challenge. "We understood early in the year that we were going to have to step up on D, only returning 3 of the 11 starters," Johnson said. "The way we are going to win is by controlling time of possession each game, winning the turnover ratio and out work every team we face."
I can't say enough great things about Evan Johnson and the entire Mount Si program. It all starts with head coach Charlie Kinnune and his staff. They do a tremendous job preparing their team each week and should be very proud.