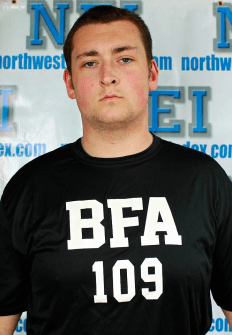 A kid that's stock just continues to rise is Jesuit Offensive Tackle Mike Miller (6-5 285 Sr). He recently earned 1st team all league honors for the Crusaders, who are currently (9-2) and headed for the state quarterfinals against Lakeridge next week.
Miller was a kid we got to know well over the off season as a standout at our elite events and on the Barton Camp and Combine Tour. He has D1 genes and a huge upside as he is young for the grade, playing with multiple high profile lineman at Jesuit for the last two seasons.
Last years Crusader team averaged (6-5 300) across the board with Miller saying, "Last season I played behind four very good offensive linemen who are now playing at D1 schools, two of whom are in the Pac-12 (Doug Brenner – UO and Andrew Kirkland – UW)". He continued, "I learned a great deal that I've been able to use as I hope to earn All-State honors and most importantly help my team get a state title."
Mike's dad David played at Oregon as he has been fortunate to have a strong support system adding, "In addition to playing for a great school with a long tradition of success in football, I am fortunate to have a very close and caring family full of successful people… My Dad played D1 football and is a successful lawyer, as is my Mom". Mike also has multiple siblings who do well in similar professions (Lawyer, Physician, Advertising).
Miller has been one of the most dominant lineman state wide, as he has heard from multiple D1 schools but is still in waiting. He had an MVP type performance at the NW's premier event in the RDAF Showcase over the summer, also attending camps at Boise State, Montana, and Portland State. He is ranked as one of our top offensive lineman in the Northwest without an offer, and is a kid that we for see playing a high level of ball moving forward.
Expect to see things pick up for the Metro League tackle as he has legit D1 size and a mean streak necessary to compete. Speaking to his short and long term goals he says, "I have competed well against some of the best in the region, and feel like I have only scratched the surface when referencing my abilities as an Offensive lineman."
He added, "The most important thing to me right now is our season and achieving our goal of a state championship… I have great teammates and the best coaching staff in the state and for that I could not be more thankful."
There is no question that Miller will be successful on and off the field as his career advances. We have seen him become one of the top players in the Northwest and an athlete that we will continue to keep tabs on. Jesuit will be tested against a good (9-2) Lakeridge team next week as they attempt to get back to the state semifinals. We will bring you updates as they happen.