Click For Barton Football Academy Video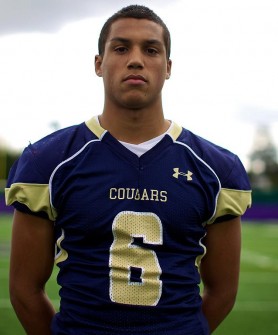 Year after year the Cougars of Canby (6-5) show that they are one of the better programs in Oregon. They shy away from no one during the pre season, typically playing maybe the toughest non conference schedule in the state. Not much changed this year as they played 6A title favorite Tigard to open the season, followed by one of the top HS teams in the country in Camas (WA).
They were blasted by both but still have come back and had a nice season, recently winning their first two playoff games 35-7 over Newberg and 31-7 against Beaverton. Even with this, the team took a big hit during the season with the loss of D1 linebacker Sam Bodine to injury.
You would be hard pressed to find a more likeable kid then Bodine. He is loved by his teammates, coaches, and the Canby community as all those that meet him come away impressed by his genuine and humble approach to life. Sam is an NEI favorite, a personal friend, and a kid that is the true definition of a role model.
Referencing his injury and his career moving forward he says, "There is definitely good that came out of this injury as it introduced me to adversity I have never faced before, helping me to become a stronger man and gain more prospective as a person."
He continued, "The plan hasn't changed as the expectations I have set out for myself will continue… I will push myself through workouts today and tomorrow and comeback from this stronger then ever". Adding, "I was blessed it wasn't my knee and it was just an ankle as I should be fully recovered from this around February or March."
Give a lot of credit to head coach Mike Vaught for keeping his guys focused, even with a ridiculously tough schedule and a plethora of injuries. Runner up TRL Player of the Year AJ Schlatter (6-2 210 Sr. LB/TE) is one of the most underrated players in the region and a legit high level college prospect. He earned 1st team all league honors on both sides of the ball and much like Bodine is just an outstanding kid.
The Cougars offensive line is one of the best in the state, behind 1st team all league center Zach Kraus (6-2 270 Sr.) and unanimous 1st team tackle Craig Fobert (6-3 260 Sr.). Dominic Shorter (5-11 190 Sr. RB) ranks as one of the top backs in the state rushing for 649 yards and 8 Tds, but has had to deal with injuries. Noah Kyllo (5-10 170) has stepped in and done an outstanding job, averaging over 7 yards a carry and rushing for 934 yards and 7 TDs.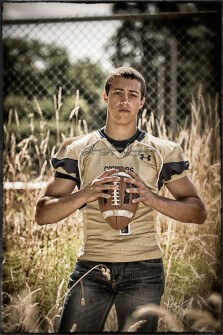 Defensively Canby has three of the better underclassmen in Oregon, all of which you will see listed on our updated NEI defensive rankings in the coming week. Jace Cates (6-3 190 Jr. SS/LB) is one of the top overall athletes in the state, projecting as a D1 kid in both football and basketball. Josh Payne (6-1 170 ATH/DB) has been maybe the surprise of the year, going off defensively and accounting for 37 total tackles, 2 INT's, and an incredible 14 pass deflections. They also feature one of the top sophomore Defensive Ends in the Northwest in Tony Kraus (6-3 235), who earned 1st team all league accolades and is an unquestioned D1 end.
The Cougars will have to travel to Eugene and take on defending state champion Sheldon (9-2) in the quarterfinals this week. The Irish will be very tough to beat, but this is a year where that is very possible. Look for the Cougars to challenge as they are playing their best ball of the season.
In my opinion the Portland State coaches look like the smartest guys in the room as they offered Bodine back in the summer. During our camp and combine tour one high profile Pac 12 coach, recruiting on a national level said this prior to PSU offering, "I can't believe a Big Sky school hasn't offered Sam Bodine yet, I am close to offering him."
Nigel Burton has done a phenomenal job of getting the top in state talent over the last few years, and LB Coach Lester Towns is as good as they come at any level. Speaking on his career moving forward Sam says, "I know I will come back from this stronger than ever, and personally I don't think there is anyone that can stop me from achieving whatever I want in life."
Joey Alfieri (Stanford) and Ryan Nall have both committed (Oregon State) to Pac 12 schools. I couldn't be more adamant when I say that Bodine is a legit D1 kid as well, and someone that will end up being a FCS All American if that's the route he chooses to pursue.