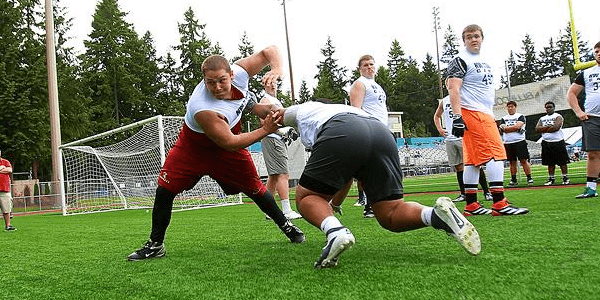 One of our top ranked lineman in the Northwest is Mason Johnson (6-3 285 Sr. DL/OL) of Kentlake. He completely transformed himself from this year to last and it showed on both sides of the ball.
The kid dropped 45 pounds over the off season and made a statement on the Barton Camp and Combine tour against some of the top athletes in the region. Mason came into his junior season at 330 but dialed in his training regimen and made significant strides. His Falcons team had a rough year going (3-7), but Johnson required a constant double team and kept the defense relevant.
Mason has been working out with elite Northwest trainer James Laurence who has been with him from the beginning saying, "He has an incredible work ethic as we focused on the stabilization of his muscles, while working on his feet and sense of balance." Laurence continued, "He knew how to be strong but didn't know how to train for mobility and athleticism, as the improvements he has made have been phenomenal."
Referencing the differences in his game Mason says, "This year I had more moves on defense and I felt a lot quicker off the ball". He added, "My goals moving forward include making an impact on whatever team I play for in college, as I just want to continue to play the game I love."
Johnson accounted for 35 total tackles, 1 sack, and 4 tackles for loss in 2013, but it's his upside that is most intriguing to schools. He is one of the strongest kids in the state for his class, squatting over 500 pounds, with a max bench of 405.
He comes from a football family with D1 genes and lives the life of a guy you want on your team. One of Mason's biggest attributes comes with him being equally talented on offense and defense. His quickness has improved immensely, but his agility speaks to his overall game.
Johnson is currently listed at NEI as one of our "Top Athletes with no Offers". He projects as more of a center/guard when referencing D1 ball, as he is extremely football smart and can lead an offense. We will keep you updated as things progress. Mason's best days are ahead of him.