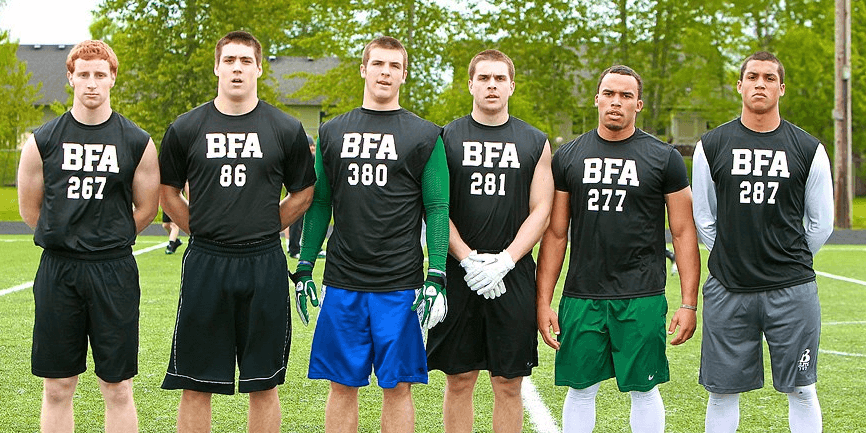 Joey Alfieri (6-3 225 Sr. LB/RB) – Jesuit
Committed – Stanford University
One of the best players in state history. Showed that he was one of the top backers in the country over the off season, being invited to the prestigious NIKE Opening and dominating while there. He recently earned Metro League Player of the Year honors, even after going down for the season with an injury.
He was an MVP on the Barton Camp and Combine Tour and showed that he was the top running back in Oregon, going for 1,712 yards and 23 total touchdowns in 6 games. His 9.7 yards per carry and nearly 300 yards per game average have the Cardinal coaches debating what side of the ball he will play on.
As most know Joey's father Phil played at Oregon State and in the NFL (NY Jets). His oldest brother Nick has been playing ball at Georgetown, with his two younger brothers looking like the future. All in all one of the best kids to ever represent the Northwest.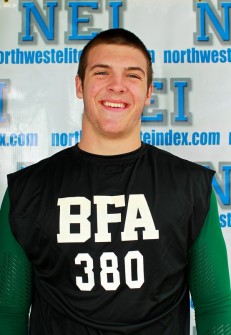 Ryan Nall (6-3 230 Sr. LB/RB) – Central Catholic
Committed – Oregon State University
Another kid that is just a phenomenal overall athlete, and someone that I foresee being an All Pac 12 player. Nall projects as a backer but went off as a RB, going for 1, 019 yards and 13 TDs as the Rams currently sit at (11-0) and ranked #1 in the state.
Nall is a freak in the weight room coming from a football family, as his brother Jake was a Mt Hood Conference Player of the Year two seasons ago. He is now on scholarship at Portland State.
Much like Alfieri, Nall is a kid that projects as a backer but has shown the ability to be a very capable offensive threat. OSU came up big with his commitment as I not so jokingly call him the best 2nd team all league running back in America.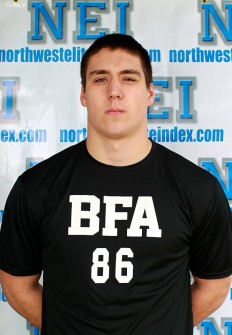 Sam Bodine (6-3 215 Sr. LB/RB) – Canby
Offers – Portland Sate
We could talk for a long time about Bodine as he was a 1st team all league athlete as a junior, and probably the best overall player in the TRL before going down with a season ending injury this season.
Check our recent article on Sam and the Cougar program https://www.northwesteliteindex.com/2013/11/17/canby-continues-to-roll-as-d1-lb-sam-bodine-gets-healthy-by-jordan-johnson/ as they will play defending State Champion Sheldon in the state quarterfinals this week.
Nick Underwood (6-1 220 LB/RB) – Lake Oswego
Offers – UNLV, Air Force, Portland State
Nick is able to read as well as any backer in the Northwest and is fundamentally head and shoulders above most. He is a three year all league starter, earning first team the last two seasons.
Underwood has played in the last two state title games, winning the 2011 state championship. At first glance you don't necessarily think D1 backer, then you view his film and he is just better then everyone else.
The work he put in over the off season is very apparent as he has unique body control and explosion. He consistently tested off the charts at our events, running the fastest 40 (4.47-Hand) among 100+ of the best athletes in the region.
AJ Hotchkins (6-0 230 LB/FB) – Tigard
Offers – Montana, Idaho, Portland State, Northern Colorado
One of the fiercest hitters to ever come out of the Northwest. Was a 1st team all league FB/DE as a junior, and repeated the feat this season as a ATH/LB.
Hotchkins is a true fullback and could very well land big time D1 scholarship offers at a program that still uses the position. He has made a nice adjustment to his backer spot and projects there as well.
Tigard currently sits at (11-0) and is ranked the #2 team in the state. AJ was a dominant force at our elite events and on the Camp and Combine tour, never missing a workout. He was also named the MVP of our Team Oregon squad which beat Team Alaska 40-29 in the All Star classic last winter.
Marcus McGovern (6-2 215 LB) – Sheldon
One of the more underrated players in Oregon is finally getting some well deserved recognition, earning SWC Defensive Player of the Year honors after going off this season. McGovern accounted for 110 total tackles, 3 sacks, 4 forced fumbles, and 12.5 tackles for loss.
The Irish were loaded at linebacker last season during their state title run so Marcus only started on offense. His play on the Barton Football Camp and Combine Tour and at our elite events over the last two seasons signified what he was capable of.
Marcus is a 4.0 student and an outstanding overall kid, as he will have to play lights out if they want to reach a 3rd straight state title game.
Peyton Dole (6-3 220 LB/H Back) – Eagle Point
Dole is one of the fastest rising recruits in the region and had a monster 2013 campaign. Peyton earned 1st team all league honors on both sides of the ball putting up some ridiculous numbers; 138 total tackles, 49 tackles for loss, 14 sacks, 9 forced fumbles, 2 INT's, 6 blocked kicks, and 13 touchdowns offensively.
Watching Peyton's film you see a kid that is head and shoulders above other athletes within the conference, seeming to always be in the right place at the right time. He is an individual that could play at the D1 level as a three year all league starter, and viable conference POY.
Mason Montgomery (6-0 215 LB/FB) – Ashland
Montgomery will go down as one of the best players to ever come out of Ashland. He is a 4 year all league starter, that has been named the MWL Conference Player of the Year on the defensive side of the ball for the last two seasons.
He helped the Grizzlies (11-0) to their first conference title in a number of years, and will be attempting to lead his team to the upset of the century against an (11-0) Sherwood club that many consider the best ever at the 5a level.
Chase Marshall (6-3 235 LB/TE) – Lakeridge
Marshall is a three year starter and one of the main reasons the Pacers are (9-2) and in the state quarterfinals for the first time in over a decade.
He is one of Oregon's top lacrosse athletes and has many of the intangibles needed to play a high level of collegiate football. Chase has accounted for 47 total tackles, 2.5 sacks, and 5 QB hurries as the Lakeridge defense is as good as its been in some time.