Click For Monike Failauga Highlights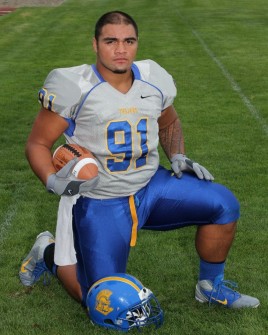 Fife's Monike Failauga is a mammoth interior defensive lineman who has put up huge numbers the past three years, but he's still waiting on his first offer and Northwest Elite Index spoke to him recently to get an update on things.
"We didn't make the playoffs, so right now I'm just working out and hoping I start to get some looks from schools," Failauga told NEI.
On the recruiting front, Portland State is the only school talking to him right now, but he hopes that picks up.
"I can't really control what schools do. All I can do is what I have control over," Failauga noted.
From a productivity standpoint the past three years, Failauga has been outstanding posting 63 tackles and three sacks as a junior last year after posting 54 tackles and two sacks as a sophomore in 2011. This season, while playing both the nose tackle spot and the three-tech, he racked up over 65 tackles and seven sacks.
"I really used my strength and quickness better this year," Failauga noted. "I really feel like my work paid off big-time this season."
Considering that Failauga sports a 3.4 GPA, benches close to 400 pounds and squats 600 and his power-clean is 325 and then throw in the fact that he is nearly 300 pounds and measures in at over six-feet tall, it's baffling as to why things haven't picked up for him.