Click For Nick Henlsey Highlights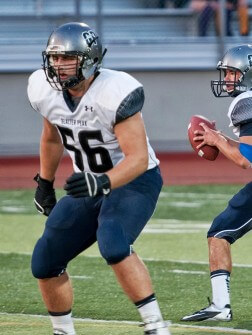 One of the state's top offensive lineman over the past few years, and a player consistently moving up the rankings board is Glacier Peak OL Nick Hensley (Sr. 6'1″ 250).
He is a returning All-State lineman from his junior season and was a big part of a Grizzlies offensive line that many consider to be one of the best in the state. A three-year varsity starter, Hensley has played nearly every position on both sides of the line, but the offensive side is where he has really excelled.
Hensley is also an excellent student, sporting a 3.8 cumulative GPA, while taking some very tough classes. "Last year I took AP Chemistry and this year I am currently taking AP Calculus along with AP Physics," Hensley told NEI. "At school I take part of the National Honor Society, and Link Crew. Link Crew was a Club I decided to pursue this year."
He continued, "Reason being Link Crew does a couple of things around my school, first being Link Crew mentors a group of Freshman for their entire first year. Also Link Crew leads many activities with the goal to bring together students of Glacier Peak."
On the field, the Grizzlies were a bit of a surprise to most. They finished 8-3 on the season and won a second straight Wesco 3A South Championship. "With a new offense this year it was very different, we went from a zone and power run to running triple option, guard trap, and mid line option," he described. " I think that our success in the run game came from the offensive line this year. The coaches really put it on us to get the blocks, we would base block and simply put we were trusted by our coaches to be able to take almost anyone 1 on 1."
Hensley is a player the coaches speak very highly of. "Nick is a very mature young man. Knows exactly what he wants and how he is going to get there," Head Coach Rory Rosenbach told NEI. "He works extremely hard in the classroom and in his athletic endeavors. Nick is a very competitive person. If you are lined up across from him you will know you have been in a game at the end of the day."
All that hard work is really paying off for Hensley as he is being courted by some of the top schools in the country. He has narrowed his list down to 5 schools, but is still very much open to discussion. "Right now I'm not planning to visit many more schools, but I do plan to visit George Fox. If other schools do come up, I would still be open to exploring my options. I want to find the school that is best for me". He added, "The only thing I want to say is, I owe all my success to my team mates and coaches. They have made me the player and person I am today."
Nick is a great young man and a heck of a football player. I have decided to allow Nick to tell you about each school. Below you will see the school name followed by what Nick has to say about each school.
—
Amherst: The biggest thing I am looking for in college is a great education. Amherst is one of the top 15 schools in the country for academics. Along with that however, they have a great football team. They've won their conferences numerous times in the past years. Another thing that appealed to me about Amherst is the campus. I visited there this past summer it was a very large campus for the size of school with old brick architecture. Their facilities are very great, they're building a brand new field, and have a great weight room. The college is also set in the small town of Amherst which is very similar to Snohomish. Amherst reminds me of home yet is across the entire country.
Carroll: Carroll is probably one of the best environments I've seen for small school football. When I went there, the stadium was packed, we had to park about a half mile down the road from the stadium just to get a space because all the parking lots were full. Their football program is very successful winning 6 out of the last 13 national championships. Almost every year they win their conference too. The coaches their take great personal interest into the players and recruits. The coaches know everyone on he team on a very personal level, you're not just a player in a scheme at Carroll. That was something very evident by their coaches and players. Carroll is also a great school academically, they have a lot of ways for me to get in touch with my professors. Also they're partnered with many graduate schools, which is a great opportunity for me to continue on after I get my bachelors degree. The campus at Carroll is very nice too, but not only that, it is set into the heart of Helena. Which has a similar feel to it as Everett. Montana is a place where I could have a ton of fun, I would want to go shooting and fishing almost every day!
Pacific: I've been looking at Pacific for some time now. Football recently came back to Pacific, but in 4 years they have made great progress. The offensive line coach at Pacific reminds me of my current offensive line coach. Pacific's campus is set in Forest Grove, a small town in Oregon which is very beautiful. Pacific is literally part of the town of Forest Grove. From what I've seen there, it would be great to be a football player at Pacific. One of the cool parts at the Campus are the on campus apartments, I definitely would want to live in one of them. They seem very nice, and Pacific seems like a great place to live. The facilities at Pacific are also very nice, they have a field house, along with a varsity athlete only weight room. Not to mention the food at Pacific is great.
Lewis and Clark: The campus at Lewis and Clark is really extraordinary. It is set away in a small community in the woods, yet 10 minutes away is Portland. They have free shuttles going to and from Portland and the campus. Lewis and Clark is a great school academically and their football team really looks for student athletes who work hard on the field and in the class. That is something I definitely want to be a part of. The coaches at Lewis and Clark do a very good job of supplying opportunities to keep the players successful in the classroom. When I watched Lewis and Clark play last weekend I thought that I could fit very well into their scheme. It would be a fun place to play ball at and a great place to continue on with my aspirations to go to medical school.
Linfield: Linfield is a place that has a top notch football program for D3 football. They're really good and they continue to be really good. Playing ball there would be a lot of fun. Linfield is set in McMinnville Oregon which is a big small town. I'm hoping to take a trip down to Linfield soon to watch a play off game. The school has many great opportunities for me in their science department. The campus was also very nice, with on campus apartments similar to Pacific. The one thing about Linfield is they have probably the best weight room in the conference.