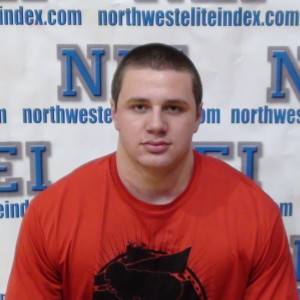 It was a big recruiting weekend for the Washington Huskies as they had 14 players in for official visits. One, Bellevue (Wa.) DE Shane Bowman, a long-time Oregon State commitment, decided to switch 24 hours after returning from his visit to Montlake and will sign with UW on February 5th.
"I have decommitted from Oregon State," Bowman said on his twitter account early Monday. "Coach (Mike) Riley and Coach Joe (Seumalo) are tremendous people with a great program but just not the perfect fit for me."
The talented defensive end then added, "With that being said I have committed to the University of Washington."
In addition to his offer from the Huskies and Beavers, Bowman also had full rides to the likes of Idaho, Montana, Montana State, Nevada, Northern Colorado, Portland State and UNLV.
Bowman was one of the leaders for the Wolverines on a team that finished the regular season 14-0, winning their sixth-straight State 3A Title and 11th in the last 13 years. He played both ways for Bellevue, but did most of his damage on the defensive side of the ball.
He plans to sign with the Huskies on February 5th, the first day of the NCAA sanctioned signing-period, and he will enroll there during the summer for their LEAP program.