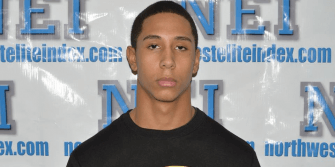 Every once and a while a kid with that "it" factor comes a long and makes his presence known. Justice Murphy (6-1 185 Jr. WR/S) of Evergreen is one of those rare athletes that has been blessed with all the ability in the world, and yet has an unmatched work ethic.
Watch him run a couple routes and you know that the kid is special. Coach Don Johnson says, "After we lock up the field at night we have to make sure Justice is gone." His focus alone puts him in a different category, as he is one of the best HS receivers I have ever seen.
Murphy is part of an up and coming Evergreen (Vancouver, WA) squad that could potentially be one of Washington's best next season. Justice earned 2nd team all GSHL honors in 2013 and will be ranked the state's #1 WR for the 2015 class. He is as unquestioned D1 athlete that will have more offers then he knows what to do with before all is said and done.
Leaving our elite event in Vancouver last weekend the question of the night among a host of former D1/NFL guys was… How does that kid not have an offer yet? He is the best receiver in the Northwest and maybe the top overall player in the region.
Highly respected National Analyst Brandon Huffman of Scout has him ranked as a 3 star, which puts him at the top the charts regionally. He takes a business like approach to his game and is never satisfied or content.
Referencing some of the changes that have taken place since Coach Johnson has arrived Justice says, "People are looking forward to coming to our games now as coach has created an environment that we didn't have before." Adding, "We are in the weight room much more and have opportunities such as this event today (BFA Elite)."
More then anything Murphy is just a good kid. He will be a featured athlete on our Northwest 7 on 7 All Star squad that will compete over the off season through the Barton Football Academy. Congrats to Justice on all his success, he's a class kid on and off the field.