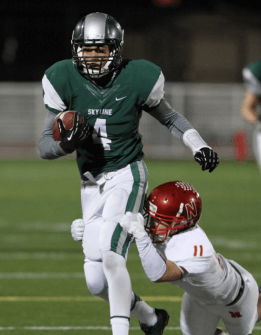 For years the Skyline Spartans have been known for having one of the best passing attacks in High School Football, and have produced many high caliber athletes along the way. One of the next in line at Wide Receivers appears to be junior Derek Loville (6'3″ 185).
The name may sound familiar to some of you, as his dad, also Derek, was a RB at the University of Oregon in the late 80's. He finished with over 4,000 yards from scrimmage and 45 TD's, before spending eight years in the NFL, winning three Super Bowl rings.
"My dad is basically my coach. With all the experience he has I can always look to him for advice on football," The younger Loville told NEI. "Although he played running back he knows a lot about receivers. He played with the greatest of all time Jerry Rice. He lives in Arizona but every time he comes up here we will work out together and when I'm off from school I will go down to Arizona and workout with him."
He continues, "My dad tells me that improving my speed and route running will be the difference in being a D1 athlete. Three of the most important things he has told me to do are ladders, jump rope, and run hills."
The apple doesn't fall far from the tree in this case, as Derek finished off an impressive junior season with 532 yards and five TD's, and was voted first team All-Kingco by the league's coaches. Loville was the leading receiver this past season, and looks to be one of the main threats next season.
"Growing up watching guys like Geno (Simone), Kasen (Williams), and Nic (Sblendorio), just to name a few, inspired me. It made me want to add my name to the list of great Skyline receivers," Loville said. "Personally I would like to have 1000 yards receiving. Last season I got off to a slow start. We were full of new faces, one of them being me, and I had to establish myself as that go to receiver."
"For my senior season I want to be consistent throughout the whole year starting the and finishing the season strong. Team wise we want to win state. It's our goal every year. We work hard and expect a lot out of ourselves. Last year was not the ending we wanted," Loville added.
Recruiting is fairly light right now, but will surely be picking up. As of right now he has heard from the likes of Boise State, Colorado and Oregon, but nothing appears to be serious at the moment. Loville is currently playing basketball for the Spartans and plans on running track this spring.
Skyline Head Coach Mat Taylor is one of the more respected coaches in the Pacific Northwest, and will have the Spartans in the hunt again next season, with Loville penciled in to be a big part.