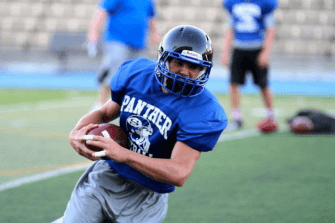 One of the top sophomores in the Pacific Northwest and the State of Oregon is Brady Breeze (6-1 180 So. ATH) of South Medford. To say he comes from an athletic family would be an understatement as high profile individuals are a fixture within the family.
Brady is the nephew of Oregon all time great Chad Cota who spent 8 years in the NFL after his collegiate career with the Ducks. His father was a standout athlete as well, playing at Arizona State and Southern Oregon University after earning 1st team all state honors on both sides of the ball in high school. Add to this that his cousins, Mason and Max Montgomery, are Conference Player of the Year and 1st team all state athletes out of Ashland, and you have one of the most athletic families in the region.
You can expect to see Breeze ranked at the top of the charts for the 2016 class, earning 2nd team all league honors in 2013, while leading the team in INT's (5) and total tackles (79) as a 10th grader. Even more impressive was the fact that his achievements were earned while wearing a club like cast on his hand, after breaking it in the 2nd game of the season against Westview.
Brady is very comparable to good friend Ronnie Rust of Central Catholic when referencing the top overall athletes in the state. He was an all conference baseball player as a freshman and will be a D1 projected kid in each sport. As a freshman on the football field he was a man amongst boys rushing for 2, 850 yards, 29 TD's, and 12 INT's. Jaw dropping numbers at any level.
Speaking on his goals moving forward Breeze says, "I would like to attend a D1 school and play football or baseball, while getting a college degree, and hopefully following in my uncle Chad's footsteps."
Cota is considered one of the best athlete's to ever come out of the state in any sport, but Brady isn't shying away from the challenge saying, "We all have dreams as kids, and I understand dreams can only be achieved by hard work."
Breeze is legit on a national level, but didn't get much offensive time during his sophomore season due to the club on his hand. Before his injury he caught 12 passes for 158 yards over the course of the first two games.
His 3.75 GPA speaks to his upside as a student, and you can expect to hear more good things out of the kid from Southern Oregon in the very near future.