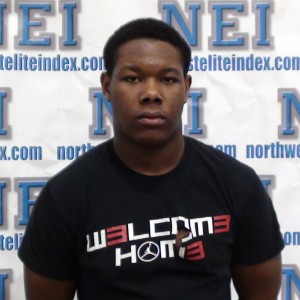 The state of Washington is loaded with talent in the 2015 class and one that is already attracting attention and offers is Eastside Catholic (Sammamish, Wa.) DL Cody Baker. The talented two-way lineman is one of the gem's of the Evergreen State's junior class.
"Things have been going pretty well," Baker told Northwest Elite Index recently. "We've had a lot of schools coming by and talking to our coaches and I've met a few of the coaches that have stopped by."
The schools that have stopped by have included the likes of Washington, Washington State, Utah, UCLA, Boise State, Wyoming and several others and he's already got an offer from one of those schools.
"The old staff at Wyoming offered me and I think the new staff has said they want me too," Baker said. "Other than them, I've just got a lot of schools looking at me and recruiting me, but they haven't offered yet."
As a junior this past season, Baker posted 37 tackles and 1.5 tackles-for-loss while helping the Crusaders to an 11-3 record including a second-straight berth in the 3A State Championship game.
"Playing Bellevue is tough because it's such a good program over there," Baker said. "They have a lot of talent and they are well-coached, so it's tough, but I think we made some progress and we're going to battle this coming fall to put ourselves back there and we'll see what happens."
Baker said he plans to take in several camps this spring and summer, but at this point he is unsure exactly which ones those will be.
At 6'4″ and weighing in at nearly 260 pounds, Baker is a man-child with the frame to add easily 30 more pounds and slide inside to a defensive tackle spot, but he could man the strongside defensive end position as well due to his overall strength and ability to set the edge, so it will be interesting where the coaches recruiting him wind up telling him they want him.