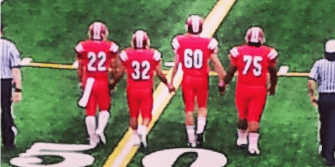 If it weren't for his relative lack of height, Kennedy (Burien, Wa.) OL/DT Manase Kamoto would be one of the hottest recruits in the state of Washington. He's a player with a ton of ability and he told Northwest Elite Index recently that he's working a lot on the finer points of his craft to be a force as a senior this coming fall.
Kamoto stands just 5'11", but he weighs in at right around 300 pounds. He played both ways for Kennedy last season and earned Seamount League Offensive Lineman of the Year honors as well as First Team All-Seamount on both the offensive and defensive line.
"I played right tackle for us on offense and I played defensive tackle on defense," Kamoto told NEI. "I had a good season on both sides, but honestly, I thought I was better on defense."
Kamoto posted over 60 tackles and had close to 10 sacks from his defensive tackle spot.
"I'm quick for a guy my size," Kamoto noted. "A lot of people think I'm going to be slow because I'm so big, but that's when I get them. I get good leverage too. I'm good at both run stopping and pass-rushing. It really doesn't matter to me. I just want to do my best to help my team."
This offseason he's been working on a lot of technique things already, but he said there is one aspect he's been focused on more than anything else.
"I want my stamina to improve," Kamoto said. "You can have all the technique you want, but if you get tired, that sorta goes out the window. I want to be stronger at the end of games and not have to come out or take a play off. I want to be as quick and fast in the fourth quarter as I was in the first quarter and the way to do that is to have better stamina."
On the recruiting front, things have been relatively quiet, but that probably lends credence to the fact that he's a bit short for the ideal height at his position. However, those that overlook him due to his measureables is overlooking the fact that you have a football player with the ability to get penetration and shows good leverage against the run on defense.
He hopes to hit a few camps this spring and summer including the Nike Elite Camp down at Oregon, but as of yet, Kamoto still hasn't mapped out his itinerary.
We will continue to keep track of Kamoto's progress over the coming weeks and months and we will update news on him as it happens.